There's been a pretty massive development over in Canada with regard to the on-going movement to finally get weed legalized. Already reputed worldwide for having the most forward-thinking pot culture on Earth, Canadians are celebrating in a big way right now and deservedly so.
Why? Well, quite simply because for the first time ever, medical marijuana patients will be legally permitted to grow their own cannabis at home.
Being able to access medical pot legally is one thing, but the fact that it's been made a taxable business in a lot of places still smacks of unfairness in a big way. When you think about it, it's a little bit like the Feds finding out the tomatoes have medicinal properties, subsequently banning you from growing your own and instead selling them to you exclusively and for profit. Well, it's not quite the same, but if you can literally grow your own 100% effective and 100% safe medicine at home without having to shell out cash to purchase the stuff, why the hell shouldn't you?
That's been the call of pot advocates for some time now, who after relentless campaigning finally seem to have had their voices heard. The Access to Cannabis for Medical Purposes Regulations goes live as of August 24, replacing the Marihuana for Medical Purposes Regulations.
What the new rule essentially means is that patients that have been given full authorisation by a doctor to purchase and use medical cannabis will be able to set up their own modest plantations at home. Or if they don't want to or cannot it do it themselves, they can assign someone else to do it for them. It sounds almost too good to be true, but it is – every word of it. They will need to register their intentions and follow a strict set of rules, but the long and short of it is that growing their own will be something they can do – end of story.
For the time being however, clubs and dispensaries will continue to be illegal…which doesn't make a great deal of sense. Not that Canada isn't leaps and bounds ahead of the rest of us, but still…this needs dealing with sooner or later.
"The devil is often in the details but I think it's a really big step forward," said Vancouver lawyer Kirk Tousaw, one of the primary campaigners fighting for the change in the law that's been confirmed to go into effect next week.
"It's by far the most robust response to a court decision involving the Charter on medical cannabis that any government has made and I think it's a far cry better than the response that the Conservative government would have come up with had they been in power."
A Long Time Coming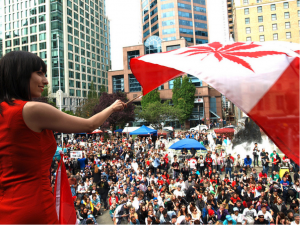 It was ruled earlier this year by one Judge Michael Phelan that it should be made a constitutional right for medical marijuana patients to be allowed to both get hold of and cultivate their own medical cannabis at home. But despite the fact that the decision seems to be one of an entirely positive and proactive nature, the government has instead poured a little cold water on it all by hinting that it may not be a long-term thing. Instead, they've called it an immediate response to the calls made by Judge Phelan and others – not something that should be necessarily counted on as permanent.
"As we move toward legalization, what I'm hoping the government does is have us at the forefront of its mind," commented Tousaw.
"What I mean by that is, in order for a medical system to work, patients have to be the primary concern … not unduly burdensome restrictions."
As for the details of the deal, those that are granted permission to grow medical cannabis will be allowed to supply the stuff to a maximum of two registered medical cannabis patients. In addition, one production facility can be shared by a maximum of four producers. Needless to say, it's going to prove a system that's difficult to police and one that's pretty much begging to be exploited by some. But at the same time, it's a real show of trust and progress by the Canadian government – an initiative that wouldn't even be given the time of day in many other countries…like the UK.
Dana Larsen – a pot activist from Vancouver – celebrated the decision in a big way, but admitted it was still a long way from perfect and would need ironing out going forward.
"There's still flaws in there that still need to be fixed but this is a big step forward and a big victory for what we're trying to accomplish," he said.
"I believe all Canadians should be able to buy and grow as needed but for those with medical needs, they should be at the front of the line-up in this process."
He personally put together a campaign earlier in the year that gained huge media traction – he's convinced that the latest move will speed up the process of getting recreational marijuana legalized across the country.
"I think this (the ACMPR) makes it harder for them to deny other Canadians to grow a few plants themselves for personal or social use," he said.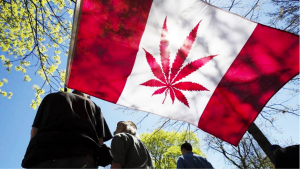 No General Change in Law
Of course, there were certain officials who were and are keen to point out the fact that while this particular decision is a big deal, it has absolutely no bearing on legal attitudes or rule as far as general cannabis use is concerned. Reminding the public that nothing had changed on that side of the fence, Scott Bardsley, of the Office of the Minister of Public Safety, reemphasised that fact that any kind of cannabis production, distribution or consumption that doesn't fall under the new rules remains as illegal as it ever was.
"Outside of the medical marijuana regime, the possession, production and trafficking of marijuana remains illegal," he said, following the announcement.
"This includes storefronts selling marijuana, commonly known as 'dispensaries' and 'compassion clubs.' These operations are illegally supplied, and provide products that are untested, unregulated and may be unsafe,"
"The Government of Canada supports federal, provincial and municipal enforcement actions to address illegal storefront distribution and sale of marijuana in Canada. However, the administration of the law is under provincial jurisdiction and there are differences across the country in terms of how provinces handle that."
As for Tousaw, he thinks that drawing such a hard and concrete line between the two groups is nothing short of counterproductive. The way he sees it, it would make much more sense to get all of those already involved in the cannabis industry to in some way work together, rather than having them operate on different sides of a trial law.
"I think all dispensaries would welcome the ability to participate," he said.
"Why then is there this reluctance by the federal government to bring them into the legitimate arena as opposed to treating them as criminals?"
He went on to talk about the progress being made in Vancouver, where the official regulating of medical cannabis dispensaries kicked off a couple a months ago.
Tousaw also spoke about Vancouver's own attempts at regulating dispensaries, which got underway earlier this spring.
"I think that the City of Vancouver took a very, very bold step in implementing regulations and legitimizing storefront dispensaries but I think the implementation has been rocky and bumpy — but that's not to be unexpected in a first-of-its-kind situation," Tousaw added.
"We'll get through those and one hopes that we'll learn from that experience and that the next set of regulations will be more seamless."
A Bright Future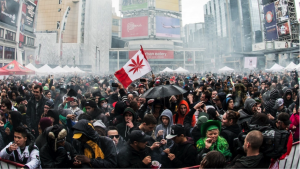 On the whole, the future for the cannabis industry and those with an interest in the stuff in general seems bright. At least, in Canada that is. It wasn't long ago that the prime minister of Canada pretty much stated outright that the legalization of recreational cannabis was definitely happening and happening soon. It's expected that by the middle of next year even, we'll be looking at the biggest cannabis revolution ever to occur in the country.
The idea being that unlike the rather messy situation in the US, the cannabis industry in Canada will be legalized at a Federal level. What this means is that it will be licensed, controlled and treated like any other industry, not some kind of dirty, seedy and confusing underground black market that's a burden on society. Already, there's over a million square feet of grow space spanning the country dedicated to cannabis cultivation alone – and legal cultivation, at that. There are 30 massive facilities producing and stockpiling the stuff on an industrial scale – there's apparently seven tons already in a big heap waiting to go.
Which all boils down to one thing – 2017 looks to be a seriously exciting year if you're a Canadian. And if you're not…well, you just have to hope they don't come out with a bunch of dodgy rules with regard to cannabis tourism.
Which they might…but we're hoping and praying they won't!