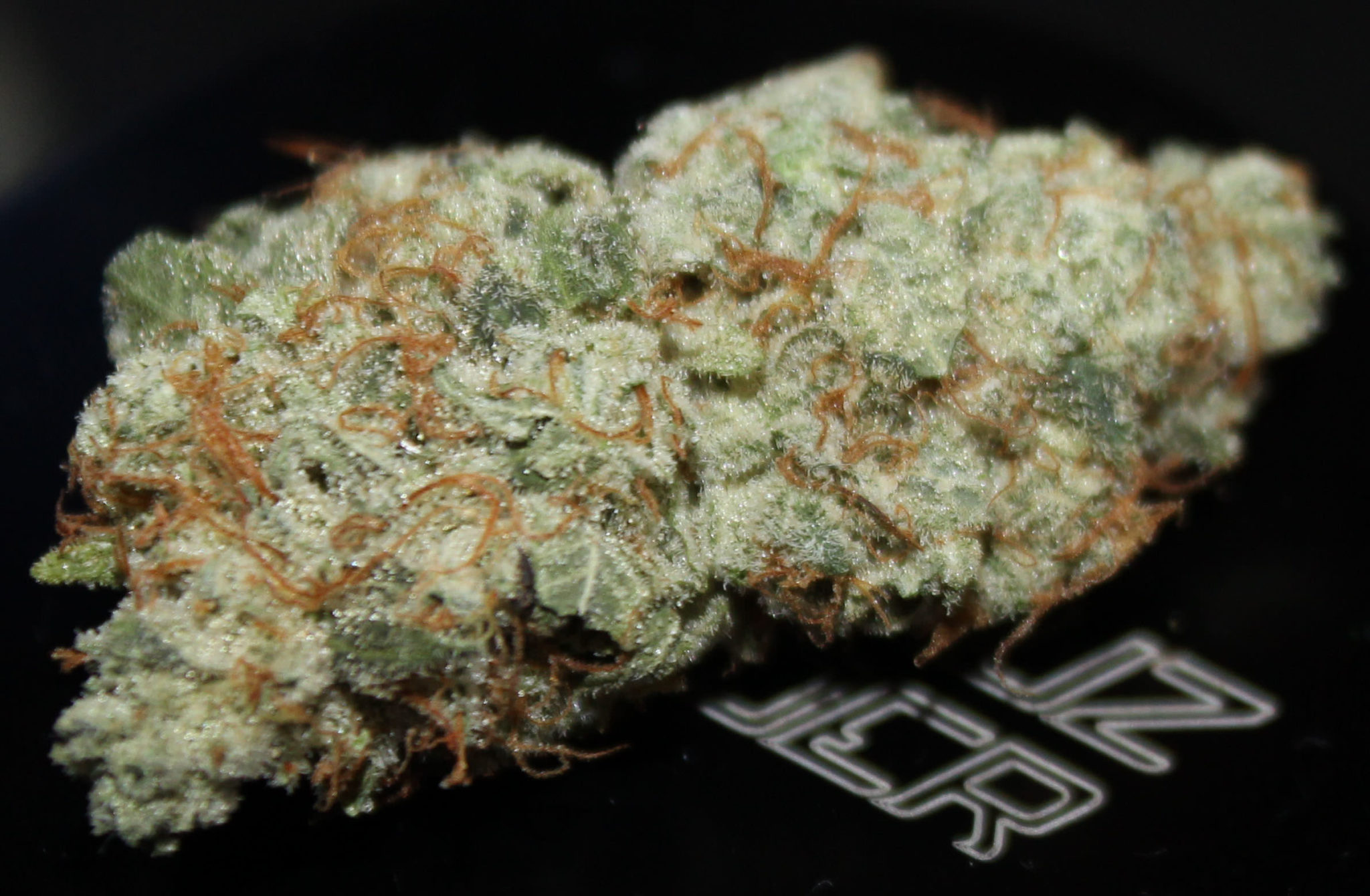 Legend has it that the Gorilla Glue strain is the result of an accident when cross-breeding Chem Sis and Sour Dubb which resulted in this seriously strong hybrid strain. At the same time, there are dozens of other stories that tell of entirely different origins. Not that it matters – we're still talking about the same strain that has sent the cannabis community into a frenzy. However it made it to the scene, it's just a good thing that it did!
As for its name, you only need to get hands-on with any Gorilla Glue strain for a few seconds to understand it all pretty well. It's the kind of bud where to process it by hand is to end up with more of the crystals stuck all over your skin than where you want it be. Massively-thick resin with THC that rockets as high as 25%, Gorilla Glue really is an absolute beast in every way.
Aroma
You don't need to go anywhere near Gorilla Glue to get a load of its fragrance – it can, does and will stink up the place in a big way! Still, break the buds and a whole world of eye-wateringly powerful aromas burst out into the open, with masses of fresh earth and more spicy-pine than you'll know what to do with.
Smoking Gorilla Glue
When it comes to smoking Gorilla Glue, the spiciness of the aroma is intensified a thousand times over and really does hit like a ton of bricks. It's a smooth but incredibly heavy smoke with a fiery heat you'll either love or hate, which goes on to be cooled with an interesting light-menthol aftertaste. This is one strain you'll most probably still be smelling and tasting the next morning.
Gorilla Glue Strain Effects/Medical Effects
As already mentioned, the fact that you could be looking at more than 25% THC says all that needs to be said about the high. It's a little like being hit by a freight train in the best possible way – even seasoned stoners can be caught off-guard by this rather epic animal. You can expect to see stars and drift into your own private world of contentment for hours after just a few heavy hits. This is most certainly not a strain for social events – unless you're happy for everyone to lay flat-out in silence enjoying their own pure contentment for hours.
Growing Gorilla Glue
Of course, getting the most out of Gorilla Glue – as in the full 25% THC – takes time, effort and commitment. However, it's a surprisingly easy strain to grow in general and thrives in most indoor settings. Hydro setups will give you the fastest and most generous results possible, though soil growing is very much on the cards. Expect relatively short, squat and bushy plants, with flowering times of around 8-10 weeks and the kind of fragrance that'll be haunting your dreams in no time!
Buy Gorilla Glue Seeds
Gorilla Glue is already an iconic strain and now there are a number of seed banks who have bred their own versions, many of which can be found here. These are sold as both Feminized and Autoflowering so there is something for all levels of experience.
Buy Cannabis Seeds
Seedbank Name
Strain Sex
Shipping
Payment Methods
Discount Code
Visit Site

SeedSupreme

Reg, Fem, Auto

Worldwide

Card, Cash, Check, Bank Transfer, Bitcoin

N/A

Visit Site

The Vault

Fem, Auto

Worldwide

Card, Cash, Check, Bank Transfer, Bitcoin

THEVAULT10 10% off first order

Visit Site
Strain Characteristics
| | | |
| --- | --- | --- |
| | Type: | Indica dominant Hybrid |
| | Plant Height: | Short |
| | THC: | Up to 25% |
| | Indoor/Outdoor: | Indoor or Outdoor but best results indoor |
| | Yield: | 500g/m2 |
| | Indoor Flowering: | 60-70 days |
| | Harvest Outdoor: | Mid October |
| | Stoned/High: | Relaxed and Euphoric |