Among the nine states making historic weed votes this November, some you could call foregone conclusions. For example, it will be a miracle at this stage if California doesn't give recreational pot the go ahead. In other cases though, the fact that the state in question has such strict and unnecessary cannabis laws at present makes it hard to envisage a more liberal future. Suffice to say, North Dakota represents a case-in-point example.
Now, it's worth pointing out that it's only medical marijuana that's being put to the vote in North Dakota – most certainly not the recreational stuff. Even so, the way they look at cannabis right now from a policy perspective…well, let's just say it's really not the kind of state in which you want to risk getting busted. So with such harsh attitudes to cannabis, how will the public vote in November?
Judging by the most recent polls, it really could go either way.
Arrest and Prosecution Imbalance
The only thing North Dakota is famous for when it comes to cannabis is being unnecessarily severe when it comes to both control and punishment. It's one of the most conservative states in the US, so it's technically no surprise that they treat cannabis as if it really is the devil's lettuce. Likewise, those using it are treated like demons from the depths of hell.
For example, even if you are caught with less than an ounce of cannabis on your person at any time, you could be looking at a fine of $1,500 and a month behind bars. And that's when you're holding small amounts for personal use only. If you have more than an ounce in your possession when busted, you could be slapped with a fine as high as $20,000 and be thrown in the slammer for a ridiculous 10-year term. Right at the top of the pile, selling cannabis – as in ANY amount of cannabis at all – means running the risk of spending the next 20 years of your life in a federal penitentiary. Completely and utterly outrageous, but what's even more horrifying is the way in which despite the fact that usage and distribution rates are near-identical between white and black residents, blacks are statistically more likely to be handed down much harsher sentences in North Dakota.
Proactive and sensible North Dakota residents have been pushing for medical marijuana to be legalized for quite some time. Recently, a group of seven bipartisan legislators penned House Bill 1430, which if successful would have seen a solid medical cannabis industry being established in the state for the benefit of residents. Unfortunately, it was shot down in flames and will not be considered again until 2017.
In the meantime however, medical marijuana will be very much making its way to the ballot box in November, when state residents will be given the opportunity to make their own decisions…rather than being told what's best for them. Though not quite as wide-reaching as some of the medical marijuana policies of other states, the enactment of the bill will nonetheless make a massive difference to thousands of lives. Specifically, the Medical Marijuana initiative will legally entitle those with a variety of serious diseases and conditions to access medicinal cannabis from a state-licensed dispensary. In addition, those who do not have immediate access (within 40 miles) to a dispensary will be entitled to grow a maximum of eight marijuana plants at home.
No Go for Recreational Pot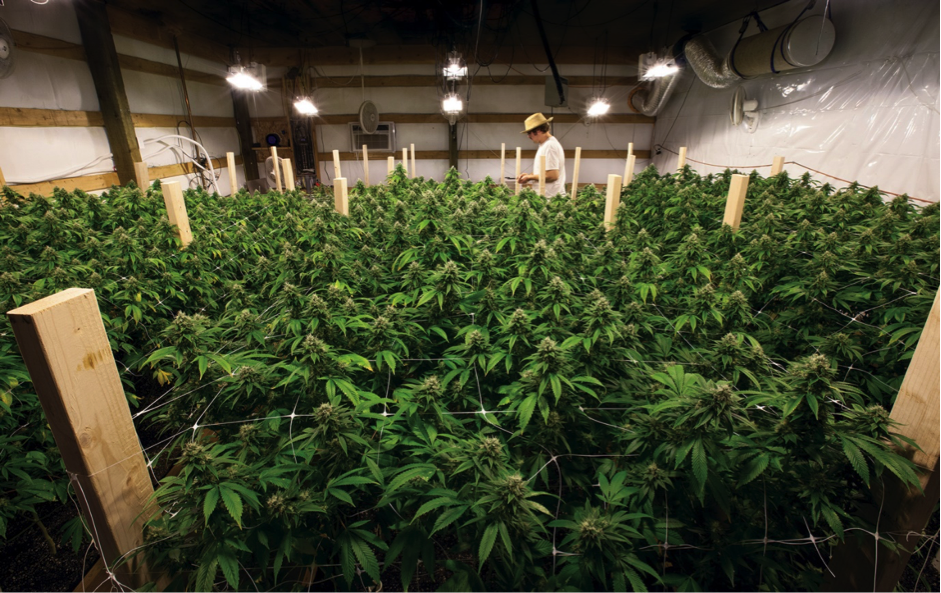 Recreational cannabis farm
Of course, none of this will make any difference whatsoever to the state's completely OTT laws on recreational cannabis. Indeed, the likelihood of any kind of recreational pot vote taking place over the coming years is about as likely as Trump entering into a free movement agreement with Mexico. But at the same time, it does make you wonder exactly how the state will come with the sudden and massive increase of cannabis doing the rounds, which for obvious reasons will be extremely difficult to police. Suffice to say, the only realistic outcome for the recreational cannabis crowd is a huge spike in annual busts and punishments, given the fact that getting hold of good weed looks set to become much easier as of next year.
Well, that's assuming that bill actually makes it through in the first place – the outlook in North Dakota isn't quite as certain as it is elsewhere.
North Dakota is one of nine states putting either recreational or medicinal cannabis to the vote in November, which could technically up the tally of states with legal pot to nine and states allowing medical marijuana to 28.
Things Could Be Worse
 Of course, cold comfort can be taken from the fact that things could always be worse than they are. For example, over in nearby (sort of) Missouri, the local population will likewise be heading to the ballot box this November to vote on a pair of important matters. Unfortunately, one of them will not be cannabis. Instead, they'll be voting on a measure to limit campaign contributions, along with a second geared toward increasing tobacco taxes by 60c.
But what's even more frustrating about the vote (or lack thereof) in Missouri is the fact that the proposed vote will not go ahead due to a judge's ruling, rather than a lack of support. Just last week, a judge ruled that the required signatures had not been collected properly, which in turn would mean that the medical cannabis initiative would not make it to the November vote.
Bummer…big time.
Speaking on behalf of Citizens in Charge, Paul Jacob insisted that lawmakers have no right disallowing the public from having its own say in such important decisions.
"Legal challenges tend to happen when someone thinks a measure actually is going to pass if it's on the ballot," Jacob said.
"Filing a lawsuit is a way to try to defeat it before it gets to the voters. They're not letting the voters have their voice when that happens. The whole idea of citizen-driven initiatives is to allow regular folks to weigh in. It is designed for the people who are not experts and not lobbyists."
He insisted that the example set by lawmakers in Missouri highlights an inherent fault in the state's democratic process.
"Initiative petitions are an end-around on legislatures' monopoly to pass laws," he added.
"It makes it tough for the people to be heard. There are no lobbyists for the average person to affect democracy. People are supposed to be in charge, not their public servants. But every January and February when legislatures convene, there is a monstrosity of legislation to try to limit or hinder grassroots groups from being able to affect change via initiative petitions, which ultimately leads to the legal challenges."
A Potential Gold/Green-Rush
One of the strongest arguments in favour of cannabis legalization is the way in which it guarantees massive sums of money for individual states and the country as a whole, by way of tax income. Arcview Market Research recently penned a report on the expected financial impact of legal cannabis across the US, in accordance with the nine states headed to the ballot box in a few weeks.
Should the states of California, Arizona, Nevada, Massachusetts, Maine, Montana and Florida go ahead with their 'yes' votes in November, total cannabis sales between them will hit $2.8 billion by 2018. Just a couple of years later, this will swell to around the $8 billion mark by the end of the decade. But what's even more significant about these findings is the fact that they exclude North Dakota and Arkansas. The reason being that they threw their own hats into the weed-vote ring a little too late to be included in the research.
Should North Dakota go ahead with medical cannabis legalization, that's hundreds of millions more dollars added to the tally.
When you consider the fact that the cannabis industry in the United States generated around $5.4 billion in 2015, a leap as high as $20.6 billion by 2020 represents nothing less than spectacular growth. The amount of money already being pumped into community projects, schools, educational programs and so on is simply astonishing, yet we've only just begun to scratch the surface of what's to come.
What Really Matters
Of course, what matters above and beyond everything else is whether or not those in desperate need of medicinal cannabis in North Dakota will be granted access to the stuff. Even if the state has no intention of ever going ahead with recreational cannabis legalization, a change in medical cannabis law represents nothing more than common sense. And compassionate common sense, at that.
Still, the ad campaigns of those fighting against the vote have been heavy and convincing to say the least, so there's no telling which way things will go. Given the fact that previous attempts to legalize medical cannabis have failed, history repeating itself for the eighth time wouldn't be the biggest surprise.
Do you think cannabis will be legalized in North Dakota? Let us know below in the Facebook comments section.