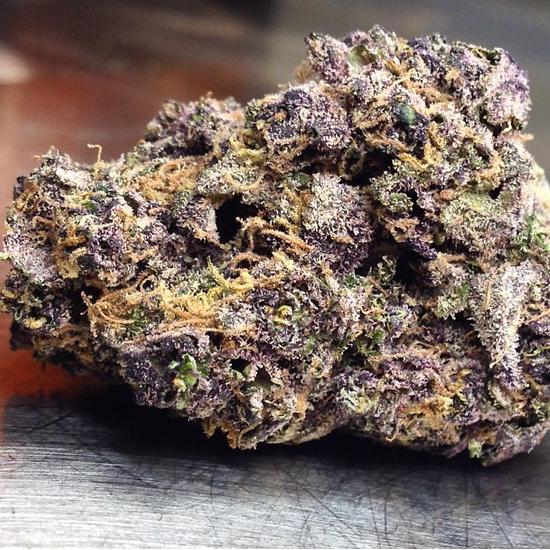 Purple Urkle is something of a mystery to this day, there's still pretty much zero to go on with regard to the true genetic origins. It's been mentioned on more than a few occasions that Mendocino Purps and Grandaddy Purple might be in there, but it's never been confirmed either way. That being said, when you consider the way it looks, tastes and hits when smoked, there's plenty of logic in these suggested ancestors. Whilst there's not a great deal known about where it came from, what we do know for sure is that when it comes to insomnia and migraines, Purple Urkle is a medicinal strain in a league of its own.
Purple Urkle Flavour
The flavour profile is nothing short of lovely, with a distinct skunkiness that sits in the background of a heavy-berry experience. The grape/berry notes have arouses suspicion that Grape Ape could also be in its bloodline, which likewise seems to make sense.
Effects of Purple Urkle
As for the hit, it comes on quick and must be approached with caution for a few reasons. First of all, it's earned a widespread reputation for making those consuming it extremely thirsty, so plan your sessions accordingly. Along with this, it's also an absolute monster when it comes to the munchies – you WILL get them and get them HARD. Other than this though, it's a gorgeously mellow and relaxing experience that feels like a delightful state of semi-sleep when hit hard.
In California Purple Urkle has been shared amongst medical marijuana circles for quite some time and is used for managing stress, pain and insomnia. It also used by those managing low level depression.
Growing Purple Urkle
Firstly if you are looking for seeds it's just not going to happen, this is a clone only plant. On the downside, it is a pretty slow plant to grow in all conditions. If you grow it indoors, it's going to be around 5 months before you get to harvest. Outdoors you'll get more, but you'll also need to wait up to 8 months to get busy with the harvesting. It's also quite picky when it comes to the perfect conditions required to bring out that purple – not one for novices or those in a hurry.
Buy Cannabis Seeds
Seedbank Name
Strain Sex
Shipping
Payment Methods
Discount Code
Visit Site

MSNL

Fem

Worldwide

Card, Cash, Bank Transfer

N/A

Visit Site
Strain Characteristics
| | | |
| --- | --- | --- |
| | Type: | Indica Dominant |
| | Plant Height: | Up to 180cm |
| | THC: | 15-18% |
| | Indoor/Outdoor: | Indoor or Outdoor |
| | Yield: | 400-500g/m2 |
| | Indoor Flowering: | 140-150 days |
| | Harvest Outdoor: | October |
| | Stoned/High: | Mellow and relaxing |