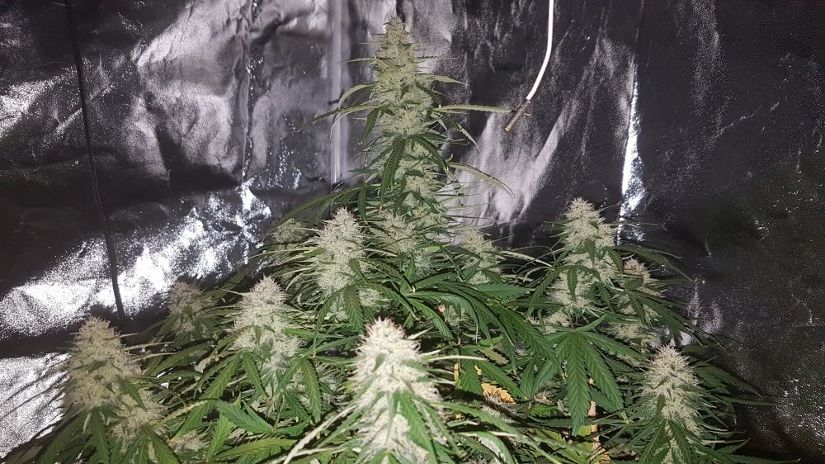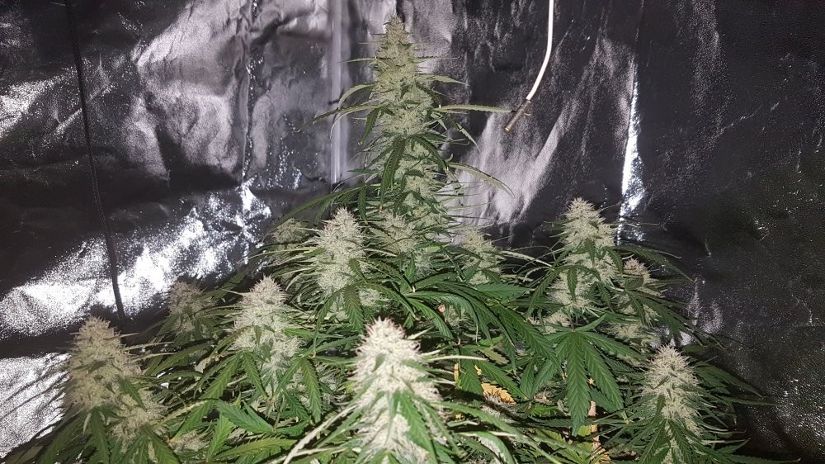 Big Bud is the kind of strain that makes a heavy promise and more than delivers on it. Famed all over the world for producing spectacularly large, sticky and dense buds, Big Bud is also known for delivering a very big high. Its origins are said to date back to the mid-80s, when the genetics of Afghani, Haze and Northern Lights formed the basis of pretty much everything on the underground hybrid market. Big Bud itself contains a heavy dose of Skunk #1 and was refined in Holland after touching down as a clone. Since then, it has taken home any number of awards and accolades – not least of which being the High Times Cannabis Cup in 1989.
Big Bud Aroma
Whatever kinds of buds you're used to, you can't help but be impressed by the sheer size of Bid Bud's flowers. Chunky, dense as it gets and resinous on another level, you really do get serious bang for your buck with this one. They're a gorgeous light green in colour and typically carry a beautiful white frosting of tempting trichomes. As for the aroma, everything's just as big and bold as you'd expect – an earthy, extremely dank and musky fragrance with just the slightest hint of fresh fruit underneath. There's also a tiny touch of spicy-herbs under the radar, which becomes far more pronounced when the buds are broken. Which is difficult – these things are really, really sticky.
Smoking Big Bud
On the smoke, Big Bud produces a huge amount of flower, though it is far smoother than you might expect. There's a definite likeness to Jack Herer about the smoke, though while Jack is famed for its citrus flavour profile, Big Bud has more of a grape note to it. There's also a highly distinctive and enjoyable sweetness to the aftertaste that's guaranteed to have you coming back for more.
Strain Effects/Medical Effects
In every respect, Big Bud delivers the kind of textbook high you'd expect from a highly potent Indica. For one thing, THC levels go as high as 20% but average around 15%, so it doesn't mess around when it comes to power. The high is far from instant – often taking a good couple of minutes to really kick in. Which is precisely why Big Bud has a habit of taking newcomers a little off-guard. The high is somewhat foggy in nature and anything but mentally stimulating, with the chance of a few psychedelic effects and an even bigger chance of couchlock. Listening to music and watching movies coming highly recommended, or simply spending time alone in a world of blissful relaxation. It's not what you'd call a social strain, but is great for unwinding. In medical circles, Big Bud does the business for insomnia in a big way, though could have you sleeping longer than expected! Its medical properties have also proved beneficial for sufferers of chronic pain and arthritis, too.
Growing Big Bud
Big bud needs a fair amount of sideways space to grow, given that the plants tend to be rather on the bushy side. That said, they never tend to reach more than 100 to 150cm in height but can go as high as 200cm, so they're great for getting to grips with indoors. Depending on the kinds of conditions you provide THC levels can come in lower than 10%, though often hit the 20% mark with a little TLC.
The SOG method is known to work wonders with Big Bud for those in a hurry, or with limited space to work with. At its peak, Big Bud can deliver a generous 600g-800g or so per square metre. Flowering times typically come in at around nine weeks, though don't be surprised if the results start showing through in as little as 50 days.
If you live in a region with predictably warm summers, Big Bud can perform seriously impressively outdoors. Otherwise, it's a strain to keep indoors if possible. With its generous yields and forgiving nature for growers, Big Bud comes highly recommended to just about anyone.
Buy Cannabis Seeds
Seedbank Name
Strain Sex
Shipping
Payment Methods
Discount Code
Visit Site

SeedSupreme

Reg, Fem, Auto

Worldwide

Card, Cash, Bank Transfer, Bitcoin

Visit Site

MSNL

Reg, Fem, Auto

Worldwide

Card, Cash, Bank Transfer

Visit Site

Sensi Seeds

Reg, Fem, Auto

Europe Only

Card, Cash, Bank Transfer

Visit Site
Strain Characteristics
| | | |
| --- | --- | --- |
| | Type: | Indica 85%, Sativa 15% |
| | Plant Height: | Up to 200cm |
| | THC: | Around 15% |
| | Indoor/Outdoor: | Indoor and Outdoor |
| | Yield: | 600-800g/m2 |
| | Indoor Flowering: | 50-65 days |
| | Harvest Outdoor: | October |
| | Stoned/High: | Relaxing full body high |