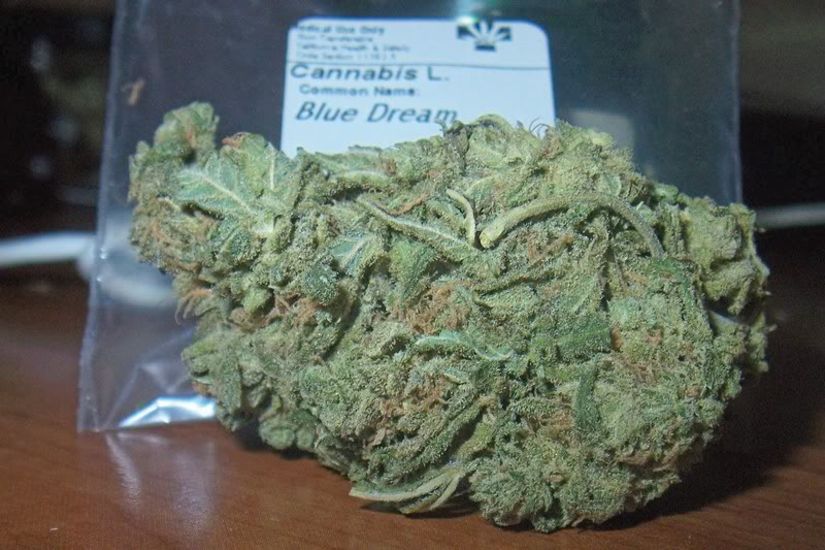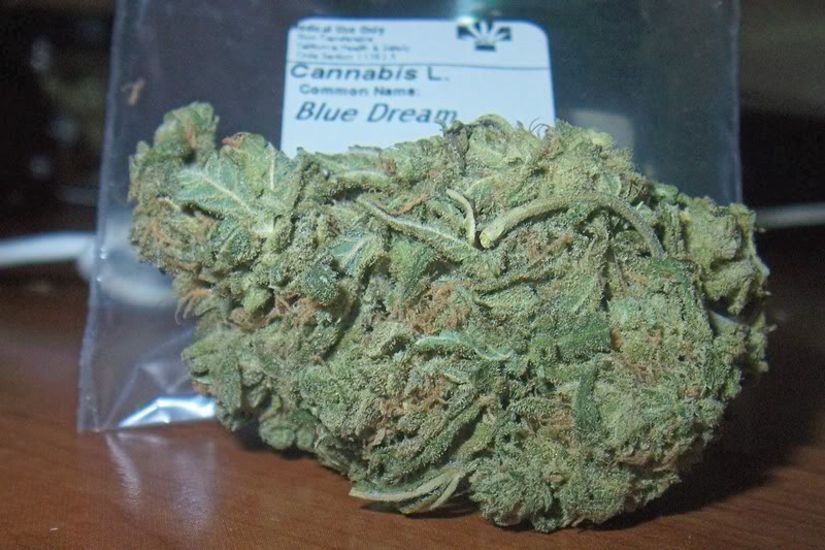 As of 2015, Blue Dream took pride of place as the single most popular and best-selling strain in the United States. In California and Colorado in particular, it had the kind of reputation and popularity that only a few strains in history have enjoyed. Which in both instances it continues to hold onto today. Not that it's a huge surprise – Blue Dream is easy to grow, a real dream to smoke and packs THC content of up to 25%. Outstanding value for money and the kind of unbridled enjoyment that encapsulates what good weed is all about. We won't even begin telling you how many awards Blue Dream has won…there's a lot of them!
Blue Dream Aroma
Despite being comprehensively covered in the stickiest of sticky resin, the trichomes on Blue Dream's buds usually appear clear. As such, it doesn't have the typical frosty-white coating, but it's still sticky and aromatic as it gets. So much so you'll struggle to break them up without a grinder. Speaking of the aroma, Blue Dream presents a mouth-watering grape-berry fragrance that's hard to resist, with a slight hint of herbal-spice underneath that underlines its Haze heritage. For those wanting to know it's lineage, Blue Dream crosses Blueberry and Super Silver Haze, two already great strains to make this one super strain.
Smoking Blue Dream
Dreamy as the whole experience may be, the actual smoke itself tends to be a little on the harsh side. Definitely a strain to induce heavy coughing in those who take it for granted. The fruity-berry flavour perpetuates through the inhalation and is particularly prominent on the exhale, with an undertone of musk and herbs. The smoke is heavy on the fragrance side of things and has a habit of lingering for hours, so discretion may be advisable.
Strain Effects/Medical Effects
Blue Dream hits with a complex high that's the stuff of legends. An instant and hard-hitting head rush, which doesn't tend to be overwhelming. Physical relaxation combined with the kind of mental stimulation that'll have you both appreciating everything you see and hear – all while talking pure nonsense and loving every minute of it! Whether daydreaming, socialising or even enjoying a romantic evening Blue Dream fits the bill for just about anything. It's also known to be great as an alternative treatment for soothing chronic pain, not to mention depression, anxiety and insomnia.
Growing Blue Dream
As touched upon, Blue Dream is the kind of strain that pretty much takes care of itself. Ideal for indoor growing using soil or hydro methods – whichever you prefer – you can expect medium-sized plants with elongated leaves and the most gorgeous buds with a purple-blue tinge. You'll be looking at flowering times in the region of nine weeks, ultimately resulting in yields of around 600g for every square metre. While Blue Dream can produce huge yields outdoors, you'll need a warm and reliable Mediterranean climate to make it happen. Stick with the indoors and give it plenty of time and attention for the most consistent results.
Buy Cannabis Seeds
Seedbank Name
Strain Sex
Shipping
Payment Methods
Discount Code
Visit Site

SeedSupreme

Fem, Auto

Worldwide

Card, Cash, Check, Bank Transfer, Bitcoin

N/A

Visit Site

MSNL

Fem, Auto

Worldwide

Card, Cash, Bank Transfer

N/A

Visit Site

ILGM

Fem

Worldwide

Card, Cash, Bank Transfer, Bitcoin

5fromrobert

Visit Site
Strain Characteristics
| | | |
| --- | --- | --- |
| | Type: | Sativa Dominant Hybrid |
| | Plant Height: | Over 200cm |
| | THC: | Up to 25% |
| | Indoor/Outdoor: | Indoor and Outdoor |
| | Yield: | 600g/m2 |
| | Indoor Flowering: | 63-68 days |
| | Harvest Outdoor: | Mid September |
| | Stoned/High: | Deeply relaxing |