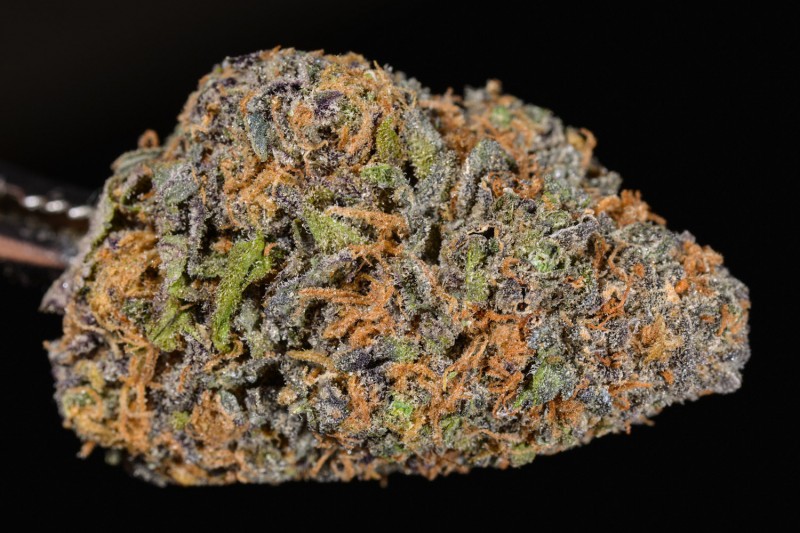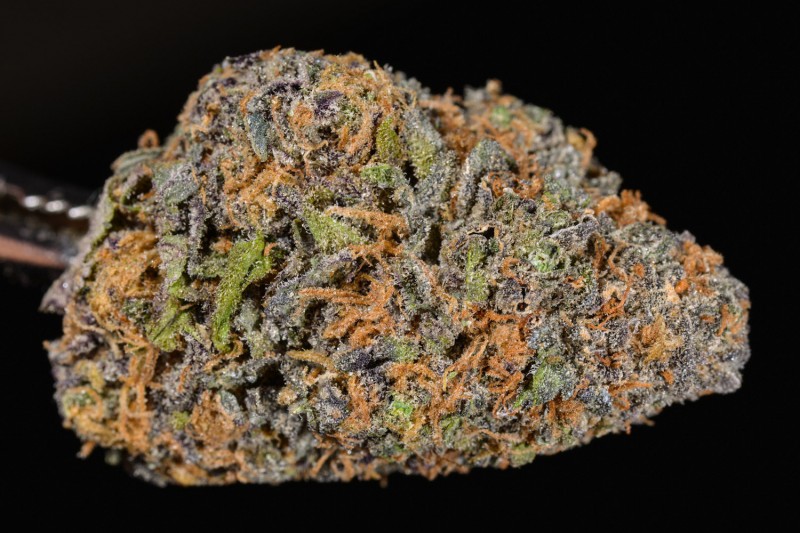 First up, it's not as if Grand Daddy Purple is anything close to a newcomer to the scene. In fact, it's been doing the business all over the place for more than five years now. Prior to Cookies hitting its stride and becoming the go-to Indica for the masses, it was GDP that ruled the roost. And for a seriously long, pretty much unchallenged run, too.
The popularity of GDP isn't hard to understand.Widely available, cheap enough to buy and an absolute doddle to grow, it's the kind of classic you find yourself coming back to, time and time again. It was cooked up by bringing together the genetics of Big Bud and Purple Urkle – two pretty epic strains in their own right. The result was and is unbelievably fuzzy, dense and decadent buds, with that characteristic purple hue that's simply mesmerising. When those orange hairs are at their brightest, the visual spectacle just gets all the more impressive.
Grand Daddy Purple is an Indica dominant strain and is a cross between Big Bud and Purple Urkle. This blend explains why it has a complex berry and grape aroma while its nugs are oversized with a compact bud structure. The nugs are incredibly dense and fuzzy with deep purple hues that run throughout.
Aroma
To be honest, Grand Daddy Purple is a pretty simple affair when it comes to aromas. Not to mention a little on the cliché side. Supporting the stereotype that goes with the colour, this is another purple strain that has a fruity-berry-grape fragrance to it. Pungent enough when flowering, though much more explosive when the buds are broken.
Smoking Grand Daddy Purple
Once you've had a few experiences with Grand Daddy Purple, it's a taste you can recognise in a split second. Unsurprisingly, the flavour profile is dominated by those fruity grape notes, though with less sweetness than the aroma may suggest. The smoke is dense, rich and sticks around at the back of the mouth for hours. Not what you'd call refreshing, but a rather luxurious experience on the whole.
Grand Daddy Purple Strain Effects/Medical Effects
Grand Daddy Purple takes no prisoners – especially when it comes to newbies. You only need a quick hit of the stuff for it to kick like a mule in an instant. It blasts the body and mind alike with an overwhelming sense of euphoria, coupled with the kind of deep relaxation that's often incapacitating. Indeed, you'll either find yourself sitting in the same spot for hours while your mind wanders dreamily, or facing a bout of enjoyable couchlock.
Unsurprisingly, Grand Daddy Purple comes highly recommended as an evening strain. It's far from the most potent Indica out there, but still packs a wallop sufficient to ruin whatever plans you may have had. In medical circles, Grand Daddy Purple has legendary status in the treatment of insomnia, not to mention the side effects of chemotherapy. Just be prepared for the effects to linger for a good few hours after – not a smoke to mess with if you're planning anything active.
Grand Daddy Purple Grow
Grand Daddy Purple performs best in a controlled indoor environment – both hydro and soil setups producing equally excellent results. If looking to grow outdoors, you'll need to ensure you've got the consistently warm weather to get the job done – 20 to 25-degrees being a good average to go for. Indoors your Grand Daddy Purple will yield up to 500g per square metre – this can be doubled to a full kilo when growing Grand Daddy Purple outdoors.
With flowering times that come in at around nine weeks, you won't be waiting long for what could be one hell of a payday.
Buy Cannabis Seeds
Seedbank Name
Strain Sex
Shipping
Payment Methods
Discount Code
Visit Site

MSNL

Fem

Worldwide

Card, Cash, Bank Transfer, Bitcoin

N/A

Visit Site

SeedSupreme

Fem, Auto

Worldwide

Card, Cash, Check, Bank Transfer, Bitcoin

N/A

Visit Site
Strain Characteristics
| | | |
| --- | --- | --- |
| | Type: | Indica Dominant |
| | Plant Height: | Up to 75cm |
| | THC: | 20-23% |
| | Indoor/Outdoor: | Indoor and Outdoor |
| | Yield: | 500g/m2 |
| | Indoor Flowering: | 60-65 days |
| | Harvest Outdoor: | October |
| | Stoned/High: | Full body relaxation |