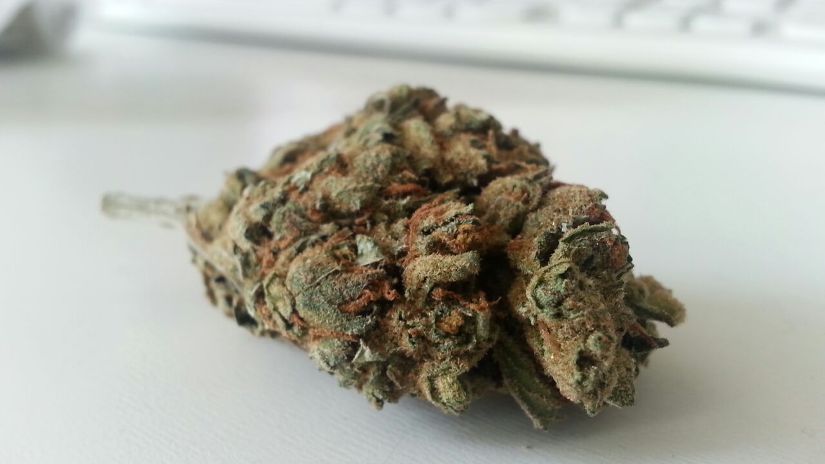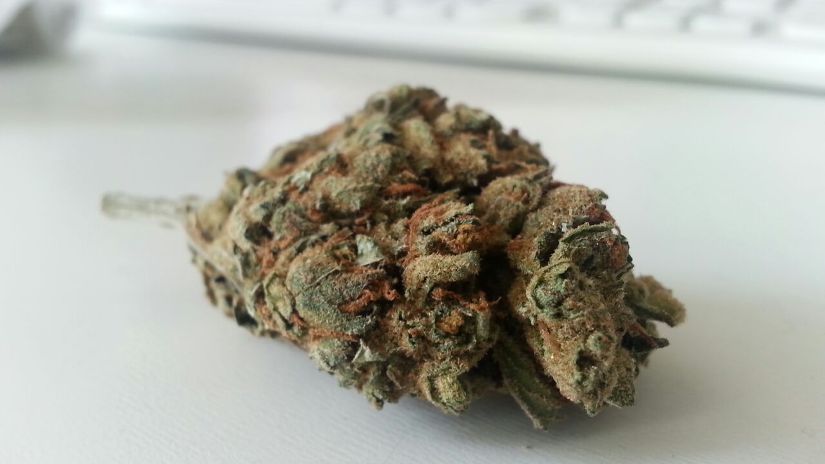 S5 Haze, this is the fella we're talking about that's slipped the net for most stoners – particularly in the US. Not only is it rare to find some for sale, but you're also unlikely to come across a lot of people growing it. Why is this the case? Quite simply, it's because S5 Haze is available in clone form only and can only be picked up in Amsterdam. So it's not exactly easy to export and cultivate elsewhere. Nevertheless, those lucky enough to stumble across a batch (or somehow have their own S5 Haze growing at home) know exactly why it's such a treasure.
S5 Haze Aroma
First of all, the buds produced by S5 Haze plants really are something else. Small in size though hard as rocks, it takes a serious amount of effort to break them up…but it's more than worth the investment. There's a ton of resin creating a gorgeously frosted layer on the surface, which also makes for a hugely sticky hand-feel. The fragrance is borderline intoxicating in its own right – sweet, pungent and with all the notes you'd expect from its Super Silver Haze/ Amnesia heritage. But it's only when you break or grind S5 Haze that its true pungency becomes apparent – this stuff packs a serious Limonene wallop on the nose.
Smoking S5 Haze
If you're the kind of smoker who likes cannabis strains that taste like you're sucking on a bunch of pine needles, you'll be in your element with S5 Haze. Super-piney on the palate, with the kind of dryness that's borderline bewildering. There are some floral notes in there too, on the back of a heavy smoke that's almost guaranteed to leave you feeling a little on the parched side. Keep plenty of liquids around when smoking S5 Haze – you'll need them.
Strain Effects/Medical Effects
As for the effects, S5 Haze is all about the visuals. It's not that it has a particularly heavy psychedelic hit, but more a case of suddenly seeing the world and everything it contains in the kind of ultra-HD you've never experienced before. It's a crisp, clear and highly visual high the likes of which has the very real potential to take unsuspecting types over the edge into paranoia and anxiety. That said, exercise caution and you'll probably be more than happy just staring into space for the duration.
Growing S5 Haze
The only downside about growing S5 Haze – which is of course a big one – is that the real deal is typically only possible to pick up direct from Amsterdam as a clone. That said, you could strike pay-dirt and find someone in the vicinity willing to make a donation, but it's common for other Haze sub-strains to be passed-off as real S5 Haze.
In any case, get hold of some one way or the other and the cultivation process is surprisingly easy. Keep it indoors for the best results, using hydro for the fastest output where possible. Plenty of light, quality nutrients and stable growing conditions could see you harvesting around 650g per square metre after around nine weeks.
Strain Characteristics
| | | |
| --- | --- | --- |
| | Type: | Sativa dominant hybrid |
| | Plant Height: | Unknown |
| | Indoor/Outdoor: | Indoors |
| | Yield: | 650g/m2 |
| | Indoor Flowering: | 63-70 days |
| | Harvest Outdoor: | Best grown indoors |
| | Stoned/High: | Crisp cerebral high |