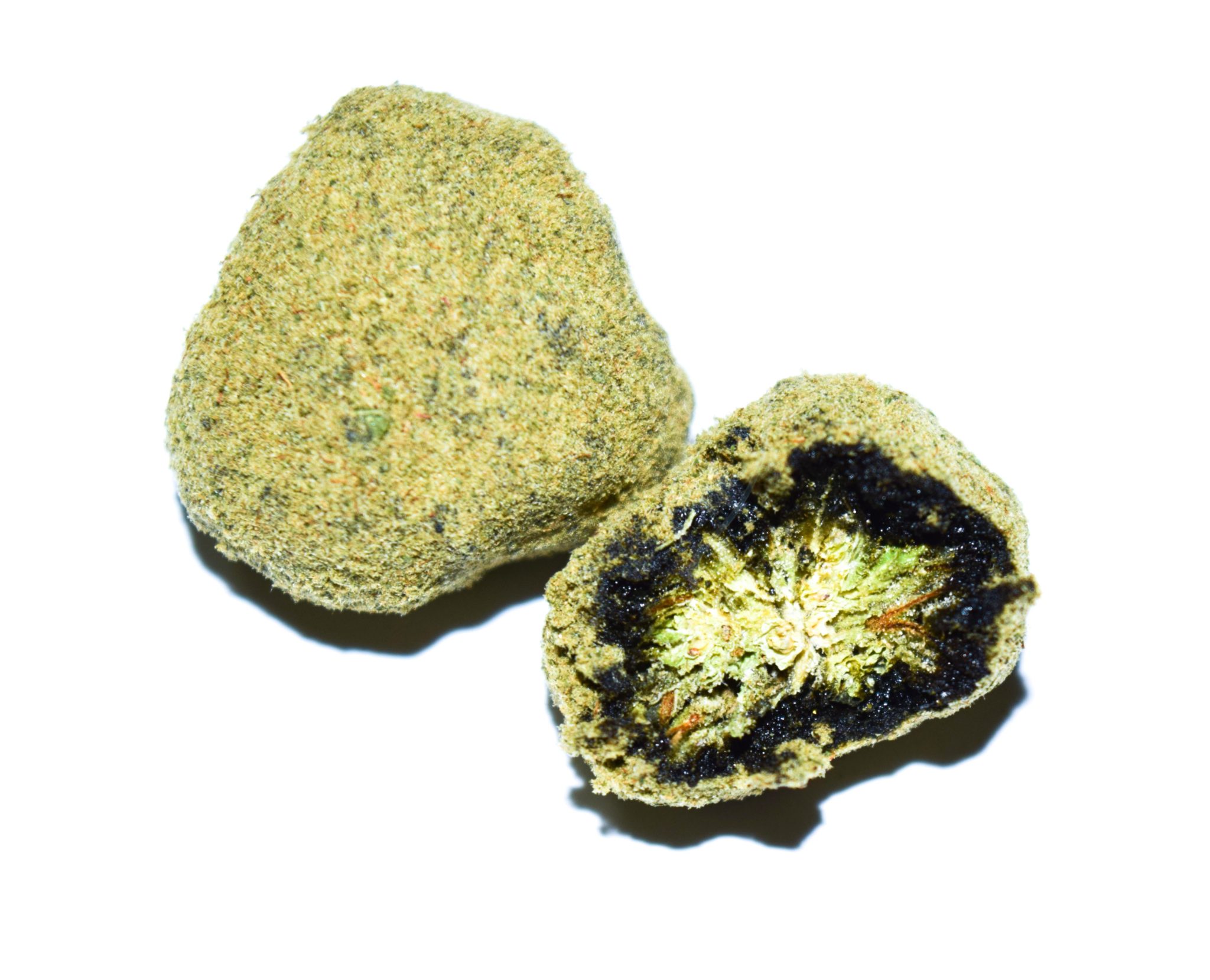 Everyone has their own unique opinion as to what really is the strongest cannabis money can buy. When it comes to the strongest actual cannabis strains themselves, inconsistencies breed debate and disappointment. After all, it may be a strain with the potential to produce 25% THC, but this doesn't mean your own cultivation efforts won't top out at 17% or less.
Then there are those who single out cannabis concentrates as the strongest cannabis on the market. Critics, by contrast, consider concentrates more of a cannabis by-product, which therefore means they cannot be categorised under the same header as ultra-strong weed.
In any case, there's a third addition to the debate that's kicking off big style all over the world right now. The beauty of Moon Rocks being that not only could they be one of the strongest forms of cannabis the world has ever seen, but they're also one of the easiest to make at home!
Moon Rocks for Beginners
Chances are you've come across Moon Rocks at some point or another, at least by way of the name if nothing else. If you haven't, you've clearly not been doing your homework for quite some time. Though considered something of a new and niche novelty, Moon Rocks have actually been around in one form or another for years but aren't widely used.
Hard to believe, considering how easy they are to make and how spectacularly powerful they can be. In fact, we'd like to bet that by the time you reach the end of this article, you'll have a pretty good idea how you intend to spend the coming weekend!
Non-MDMA Moon Rocks
Just to get one thing out of the way first, when we refer to Moon Rocks we are most certainly not talking about pure MDMA crystals. They come from an entirely different end of the recreational drugs spectrum, which we will not be dipping into for the time being at least. Instead, we are talking about cannabis Moon Rocks, which are referred to in some circles as cannabis caviar.
What Are Moon Rocks?
Purists may argue – and quite right they are – that cannabis Moon Rocks cannot be classified in the same bracket as standard cannabis strains. The reason being that these gorgeous nuggets of goodness comprise at least two or more different types of cannabis – you're unlikely ever to come across a Moon Rock that has been made entirely out of one cannabis strain.
This is because in the simplest of terms, Moon Rocks are sizeable nugs of cannabis, which after being soaked liberally in hash oil are then coated in a decadent layer of powerful kief. So it's essentially something of a three-in-one affair – three ultra-powerful forms of cannabis coming together in perfect harmony.
As is the case with quite a lot of cannabis strains and products, the exact origins of Moon Rocks are unknown. Given that LA rapper and cannabis businessman Kurupt produces his own trademarked Moon Rocks collection which is sold across the United States, he's often credited as the genius behind the idea. Still, evidence would seem to suggest that Moon Rocks were being manufactured and smoked in a variety of forms, long before he himself put his branding on them.
Whoever it was that came up with them, they may not have realised just what kind of a money-maker they were on to. Incredibly, it isn't rare to come across high-quality Moon Rocks being sold at dispensaries across the United States for a full $1,400 per ounce. Out of the reach of most, which is precisely why it's such a good thing that Moon Rocks are comparatively easy to throw together at home.
How to Make Moon Rocks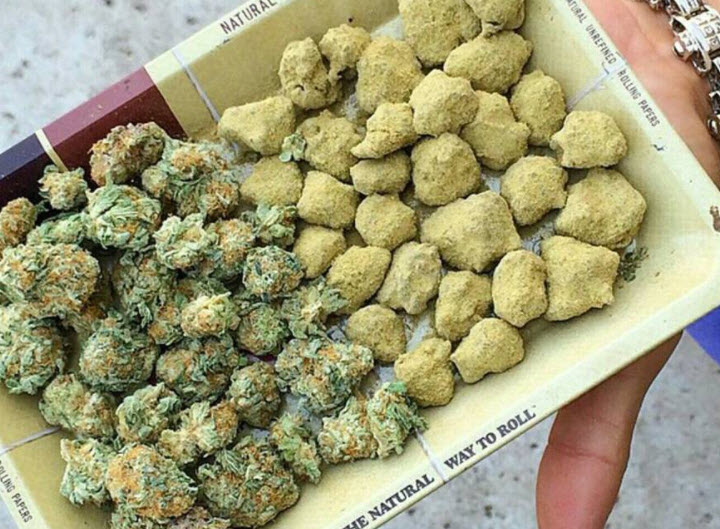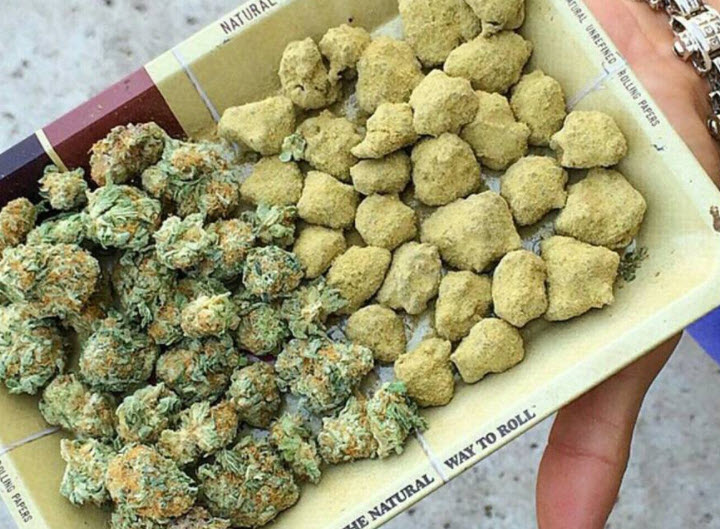 If you'd like to try your hand at making a batch for yourself, you'll you first need to ensure you have the following supplies on hand:
Kief – And plenty of it too, given the way in which you will be using this concentrated cannabis product to coat your Moon Rocks liberally and generously.
Buds – Given that you are looking to create something quite spectacular, you might as well dedicate your very best buds to your DIY Moon Rocks. There are really no set rules as to how large or small Moon Rocks need to be, so you can make your mind up for yourself.
Hash Oil – Your choices here are to go through the exhaustive process of making hash oil yourself, or to pick up a high-quality batch elsewhere. For obvious reasons, the overwhelming majority of DIY types go for the latter.
Dropper – To make it easier to get the hash oil on to your cannabis flowers.
Tweezers – For obvious reasons, things have a habit of getting quite sticky and messy!
So that's what you'll be needing – now onto the surprisingly simple process of putting Moon Rocks together:
First of all, decide which of your buds you are going to use to create your Moon Rocks. They should be of a decent size and as dense as possible. The more compact they are, the easier they are to work with and the better the results you can expect.
Take your hash oil and use a dropper of some kind to apply the oil to the bud in its entirety. You need to ensure that the entire bud is fully coated in hash oil, though not to such an extent that it is dripping wet.
When the buds have been sufficiently coated in hash oil, use the tweezers to pick them up and place them into the container containing the kief powder. Rotate and move them around as necessary, in order to ensure that a generous coating of kief has been applied to the entire flower across the board.
Put your Moon Rocks to one side and give them sufficient time to dry. Once dried, they are ready to smoke in any way you see fit.
Smoking Moon Rocks
Though everyone has their own unique preferences and rituals, you can actually smoke Moon Rocks in exactly the same way as you would any other bud. The only thing you need to really be aware of is that when you break up Moon Rocks, it's inevitable that some of the kief may come loose and fall off. Which in turn means that you need to be as careful as you can, so as to minimise wastage.
In addition, don't make the mistake of taking Moon Rocks for granted in terms of strength. Even if you're a seasoned stoner, THC levels that have been recorded well beyond the 50% mark are more than sufficient to knock just about anyone clean off their feet. If you happen to be something of a newcomer to cannabis, you might want to stay away from Moon Rocks altogether for the time being at least!
Still, if you know what you're doing and are sure you can handle this kind of punch, you might find Moon Rocks really are no less than a stoner's dream come true!
Would you try Moon Rocks?