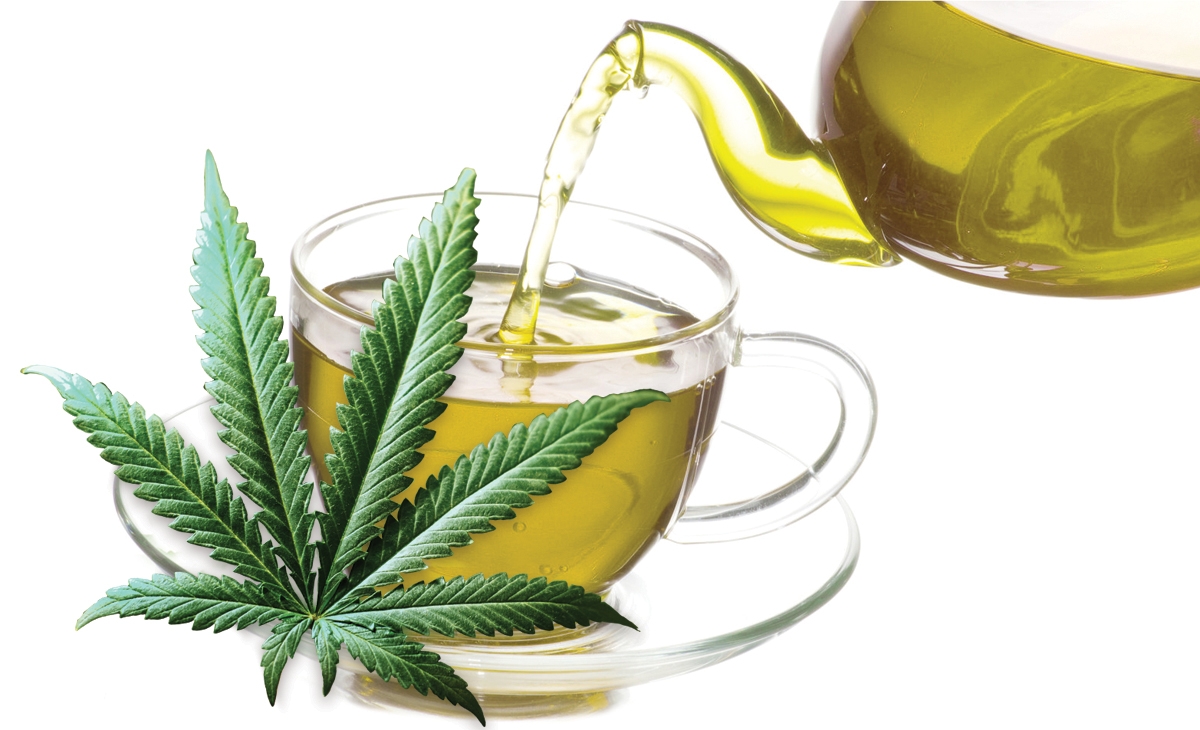 If you've been on a coffee kick lately and you feel the effects of the harsh caffeine addiction, you might want to consider tea instead. I think it is needless to say that tea is better for you. Not only has it been a tradition for millenniums, but it also carries caffeine in a prettier package for your health and cortisol levels. Now try cannatea and you will feel relaxed all day.
Making Cannabis Tea
It's easy to make Cannatea. Tea, hot water, steep. And It's healthy. Holistic benefits hide in the leaves of green tea and herbal teas like chamomile and licorice. Cinnamon is a common topping, and pile it on! Cinnamon is an anti-inflammatory and a sweet tasting spice that has no sugar or glucose in it. Caffeinated teas are better for you than coffee because of the amino acid Theanine which is used to treat anxiety and high blood pressure. Because of Theanine, the caffeine delivery to your body feels less jittery and more alert. The best thing – cannabis loves caffeine! The more caffeine, the less THC you need because it will cause a more potent effect.
Now adding cannabis will only make tea time more desirable. The question is how? You can't steep raw flowers because THC isn't water soluble (well, you can, and raw flowers have some great benefits. However, you just won't have a THC high). You could add tincture, though they can be expensive and sometimes are made with alcohol – something I wouldn't recommend in your cannabis tea. How most people make their tea is using either coconut oil, honey or cannabutter.
Using Left Over Nuggets to Make Cannabis Tea
I found a great way to enjoy cannabis tea by using the left over nuggets from making my canna-coconut oil for eating and lotion use. After straining the infused oil, I was left with these nuggets still full of that desirable oil. I let them cool because coconut oil hardens. Then I had these coconut oil coated cannabis flowers. You can eat them as an edible – though be careful because they look small but carry a large amount of THC. I didn't find them that appetizing so I started steeping them with my favorite teas to make cannatea. My favorite is licorice and cinnamon tea and cannabis.
To make your tea using the left over coconut oil nugs you will need to follow these basic steps.
What you need:
Tea bag or tea leaves
Mug or a teapot if making for a group
Coconut cannabis nugs
Tea strainer
Milk (optional but good if using a breakfast tea)
Instructions:
Add the tea bag/ leaves to your strainer along with the coconut nugs
Pour the boiling water over the tea and steep for 5 minutes
Remove the strainer (if made in a pot use the strainer over the spout when pouring)
Add milk (sugar if you like) and stir
Tea Using Your Chosen Infusion
The most effective ways to make a cannabis tea is to infuse your herb into something that has a high fat content. If you have made edibles already, there is a good chance you have some butter, coconut oil or honey available to use. If you do then excellent, if not check out one of the links earlier in this piece.
What you need:
Tea bag or tea leaves of your choice
Mug or a teapot if making for a group
Coconut oil, cannabutter or honey
Tea strainer
Milk (optional)
Instructions:
Add leaves/ tea bag to the strainer
Pour over the boiling water and steep for 5-10 minutes
Remove the strainer and add a spoonful of either the honey, butter or coconut oil to the tea and stir
Making Cannabis Tea Using Stems
The final way to make cannabis tea is using the left over stems and sugar leaves you may already have saved. Many people save these leftover scraps wondering what to do with them, making tea is a great option if you do not want to take the time to infuse them into butter etc. Using half and half (half cream, half milk) you can make a quick infusion and use it to make your tea.
What you need:
Grinder (coffee grinder works well if you have one)
Small saucepan
Tea strainer if using leaves
Mug or teapot
Coffee filter/cheese cloth
Half and Half (half cream, half milk mix)
Tea leaves/ bag of choice
Instructions:
Increase the surface area of the stems and flower by grinding them
Add the half and half to the pan and bring to a simmer.
Add the cannabis and stems then simmer for 5-10 minutes
Remove from the heat and filter to separate the waste
Make tea as you normally would then add the half and half (about 1/4 of a cup) and stir
*If you do eat the nuggets, add a bit of sea salt to them for a more palatable taste.