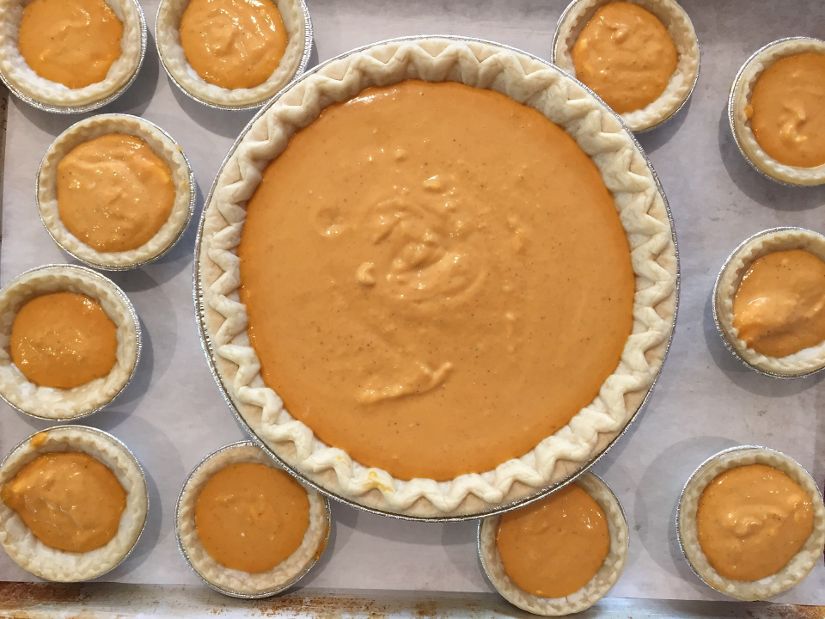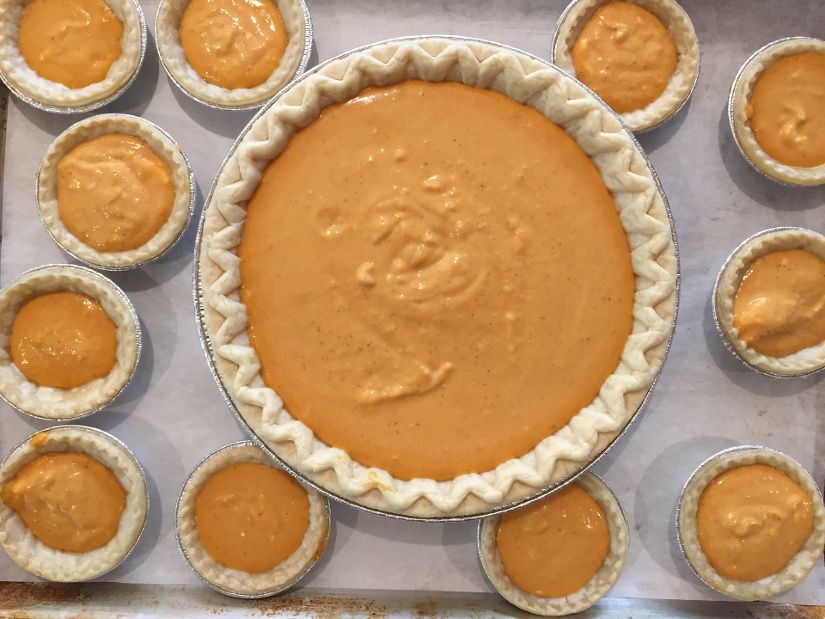 It's Thanksgiving season and everyone is reserving their turkey birds and preparing for the annual feast. Usually, everyone brings a dish to dinner which makes the feast even greater. But, I think, the one thing everyone takes for granted is that the traditional dessert of Pumpkin Pie will just appear. Who actually makes it and how in the world is it made? Every year, at my family table, my grandfather bakes the delicious pies we share at the end of the meal. He is the only one who makes them because he was once a baker as his profession (and still is though retired). But, one year, he wasn't feeling the best health-wise and didn't bake the pies. Everyone at the table acted as if everything was great and they were all alright snaking on cookies and chocolate, but I was shocked! NO PUMPKIN PIE? Well, I guess if I want to have it, I'll have to learn to make it.
Now, think about it. If you can unlock the secret of making pumpkin pie, you also obtain the power to dictate the ingredients and alter it as you please. For me, this was a game changer because sometimes pumpkin pie is watery, sometimes it's too sugary or doesn't have enough, and most of the time the crust is a failure. And the crust is the most important part! So, I stole the crust recipe from my grandfather and instead of keeping it a secret and passing it on to the next generations to come, I am passing it on to the LIWTS community exclusively.
It is a hell of a project, baking a pumpkin pie, but I have found a few hacks that make it much more bearable. And since this recipe uses cannabis infused coconut oil, you may not want to bring this to the family dinner – or maybe you do. I often bring this gem to my Friendsgiving celebrations as a merry way to honor our meal and friendships and indulge in some pie!
Cream-Free Pumpkin Pie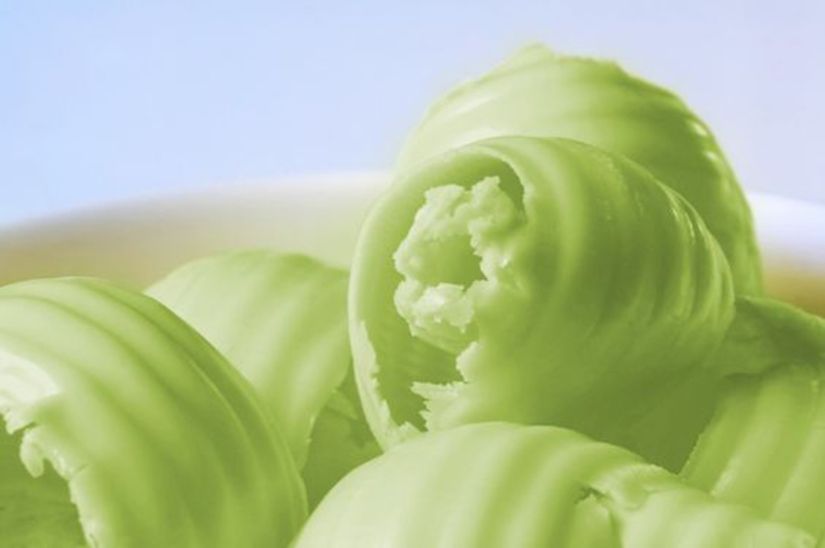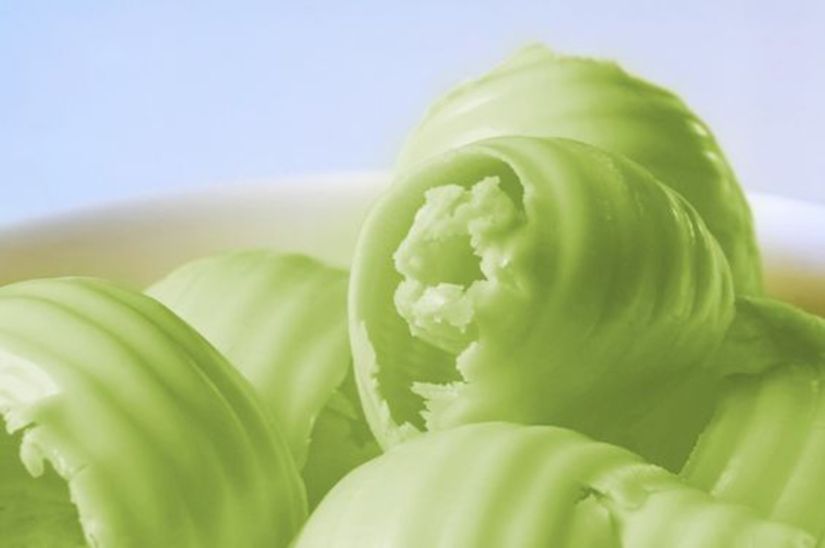 If you would like to feel a little bit more professional in concocting this recipe, solve your cannabis in cream because the best pumpkin pie is made with condensed milk or heavy cream. Also known as cannacream. Unfortunately, I am lactose-intolerant and heavy cream does not work for me. In this recipe, 1 cup of yogurt can be substituted for the cream or ½ cup of alternative milk with the addition of some nut butter. Keep in mind that yogurt, nut butter and most alternative milk (because of the fat content) are not good cannabis solving products so I added cannabis-infused coconut oil.
Gather Your Tools
First things first, you have to acquire the ingredients and also have your cannabis-infused coconut oil already made. Make sure to have a pie pan too, because this is essential. I bring this up because so often I choose to bake a pie and the kitchen I am working in will be lacking a pie pan! You should also have a flat surface to work on, preferably wooden like a cutting board, and a rolling pin to roll out the pie dough (but a wine bottle can also easily do the trick). And a food processor would be ideal.
Now, get down to business. Roll up your sleeves, smoke a joint and start baking!
Pumpkin Pie Crust Ingredients:
2.5 cups of unbleached flour (can substitute for almond flour)
1 cup vegetable shortening – my grandpa swears by Crisco
a pinch of salt
4-6 tbsp of ice cold water
1 egg yolk
Medicated Pumpkin Pie Filling Ingredients:
15oz pumpkin purée – get the canned stuff!
½ cup of brown sugar or, my favorite, molasses
a pinch of salt
3 eggs
1 tsp vanilla extract (heaping)
2 tbsp cannabis-infused coconut oil
1 cup of condensed milk, whipping cream, yogurt or a half cup of alternative milk combined with nut butter
Spices
a pinch of all spice
½ tsp nutmeg
1 tsp ginger powder
1-3 tbsp cinnamon – but there is never enough in my opinion
Optional
5 tablespoons nut butter – almond, hazelnut or macadamia
Whipped Cream
Crust Directions:
Put your flour, salt and shortening into the food processor and blend. The mixture will be grainy.
Add a tablespoon of ice cold water to the mixture at a time and blend. You want to check the texture of the dough after the third tablespoon. You want to be able to pick up the grainy dough, and when you squeeze it, the dough should stay in a compact dough form. If you open your hand and find that the dough crumbles, you need to add more water.
When your dough is ready, pour it out on a flat surface. Separate the mixture in half by eyesight and then start to pack each separate pile of mixture into two mounds of dough.
Roll out with a rolling pin or wine bottle. Make sure to start from the middle of the dough and roll outwards, turning the dough slightly in a circle so as to roll out the dough into somewhat symmetrical circles.
Place one half in the bottom of the pie pan and chill in the fridge while the oven preheats to 425F/220C for 12 minutes. Use pie weights so that the dough doesn't rise in the middle– This is called blind baking. By partially baking the crust and cooking the purée separately, you can guarantee that the crust will be crispy all the way through and that it won't warp.
Filling Directions:
Using the processor again, purée the pumpkin purée (yes, again) to ensure a silky texture. And trust me, the canned stuff bakes better. Add in the sugar or molasses, the salt and spices.
Put into a pan and cook for no more than 5 minutes. Remove from heat.
Whisk in the cream or yogurt or nut butter and alternative milk. Add the canna-coconut oil now too because it will easily melt into the warmfiling. So as not to cook the eggs in the warm pie filling, withdraw the eggs from the fridge before attempting the crust to get them to room temperature. Beat the eggs in a separate bowl and add a bit of pie filling to the eggs. Then whisk in the egg mixture with the rest of the filling.
Add the vanilla and then carefully pour the warm filling into the partially baked and warm pie crust.
Baking and Plating Your Medicated Pumpkin Pie:
Place the second rolled out pie crust dough on top. Place four slits in the shape of a compass, leaving the middle intact. Slather egg yolk on top. Sprinkle on a bit more nutmeg for the holiday scent.
Turn down the heat to 375F/190C and bake for 50 minutes. Check on the pie every 15 minutes.
And remember to always allow the pie to cool down before serving! Premature cutting will result in a crumbly mess.
Top each piece with whipped cream and cinnamon and enjoy.
Merry Holidays, everyone!