Cannabis is an herb. That's obvious. So, doesn't it make sense that it would pair well together with other like-minded herbs to create power herbal blends? Cannabis has been demonised over the years for its psychoactive effects and still has a stigma of being a class 1 drug (worse than synthetic drugs like cocaine). The war on natural medicines is still ongoing with more of nature's finest like psilocybin mushrooms and ayahuasca. Despite the resistance, the demand for more and more of nature's bounty is apparent with the scientific findings of its health benefits – it's no wonder that nature would provide us with the medicines and nutrition that we need!
Cannabis advocates aren't the only medicinal herb renegades of our time. These pioneers have made it their lifelong mission to reincorporate herbs into everyday lives again and restore balance to human health. I caught up with one of these brave people, Emily Casey from FEMNA, who created a business on making herbs sexy. The FEMNA line of products consists of teas and oils made up entirely of herbs that help to balance hormones and alleviate symptoms, especially designed for those with fluctuating hormones like women.
"Herbs are an integral part of our history and our historic diet."
According to Emily, herbs are not a new thing. Our modern society has deviated so much from out paleolithic way of life that we have dropped some of the most important parts of our diets and health which include real and raw herbs. Even supplements aren't really cutting it. Emily stresses that we need to cultivate and forage the real leafy greens. "Humans were eating herbs all the time," Emily says, "because they grew wild among the wild food they were eating. Unknowingly, our ancestors were consuming plants that helped to harmonize their health on a cellular level and help with physical ailments like digestion, aches and pains, the cardiovascular system and immunity – among others."
Herbs are important, both kitchen herbs and cannabis. Now, blend them together and you can find some great combinations. Emily says her favorite herbs to make tea with are rosemary, sage and peppermint so I combined her herbal expertise with a cannabis blend that will keep you energized and lively but calm and cool. Here, I breakdown a few recipes you can try by incorporating them into your vape, butter or tea.
Pairable Kitchen Herbs
Adding herbs to our diet can be difficult if you don't grow them yourself. Thankfully some basic kitchen herbs are hardy and easy to grow in most conditions – even indoors! Time to get growing and even growing herbs with in your cannabis garden can offer some great benefits and terpene flavors.
Peppermint: Great for respiratory relief, digestion, appetite suppression and breath health. Add in a dose of your favorite pinene strain like Jack Herer, Romulan or Blue Dream for an anti-inflammatory power team with an alpine refreshing taste.
Rosemary: A satiating herbaceous plant, rosemary provides immunity boosting, antiseptic, and flavor-enhancing properties. Limonene terp strains pair best with rosemary. Pull out your Lemon Haze or Sour Diesel to enhance your mood, stress-relief and antibacterial benefits.
Lavender: A Provence herb that is commonly associated with relaxation and scented soap, lavender does more than just look pretty. Linalool is the terpene that connects this floral herb with particular strains like Amnesia Haze and LA Cookies. Together, you can create the perfect night-time elixir to reduce anxiety and depression while feeling the sweet sedation of indica and lavender combines.
Basil: One of the well-known Italian herbs that adds a deliciously herbaceous flavor to food, basil is also one of the great complements to cannabis. Myrcene is in this herby-terp and also found in earthy strains like Kush and White Widow. Together, this herbal concoction alleviates pain, cramping, inflammation, digestive issues and insomnia.
**Two ways to keep them in your sight are:
1. to hang dry the herbs upside down by a string for easy access to dry herbs
2. keep fresh cuttings in a small jar of water – hardy herbs like rosemary, peppermint and basil will thrive.
*             *             *
Herbal Cannabis Blend Recipes
Emily's Energy Tea
1 tsp chopped rosemary
1 tsp chopped sage
2 tsp chopped peppermint
1 small decarboxylated cannabutter nug (Golden Goat)
Add boiling water and steep for 4 minutes. Then, start moving and enjoy the energy boost!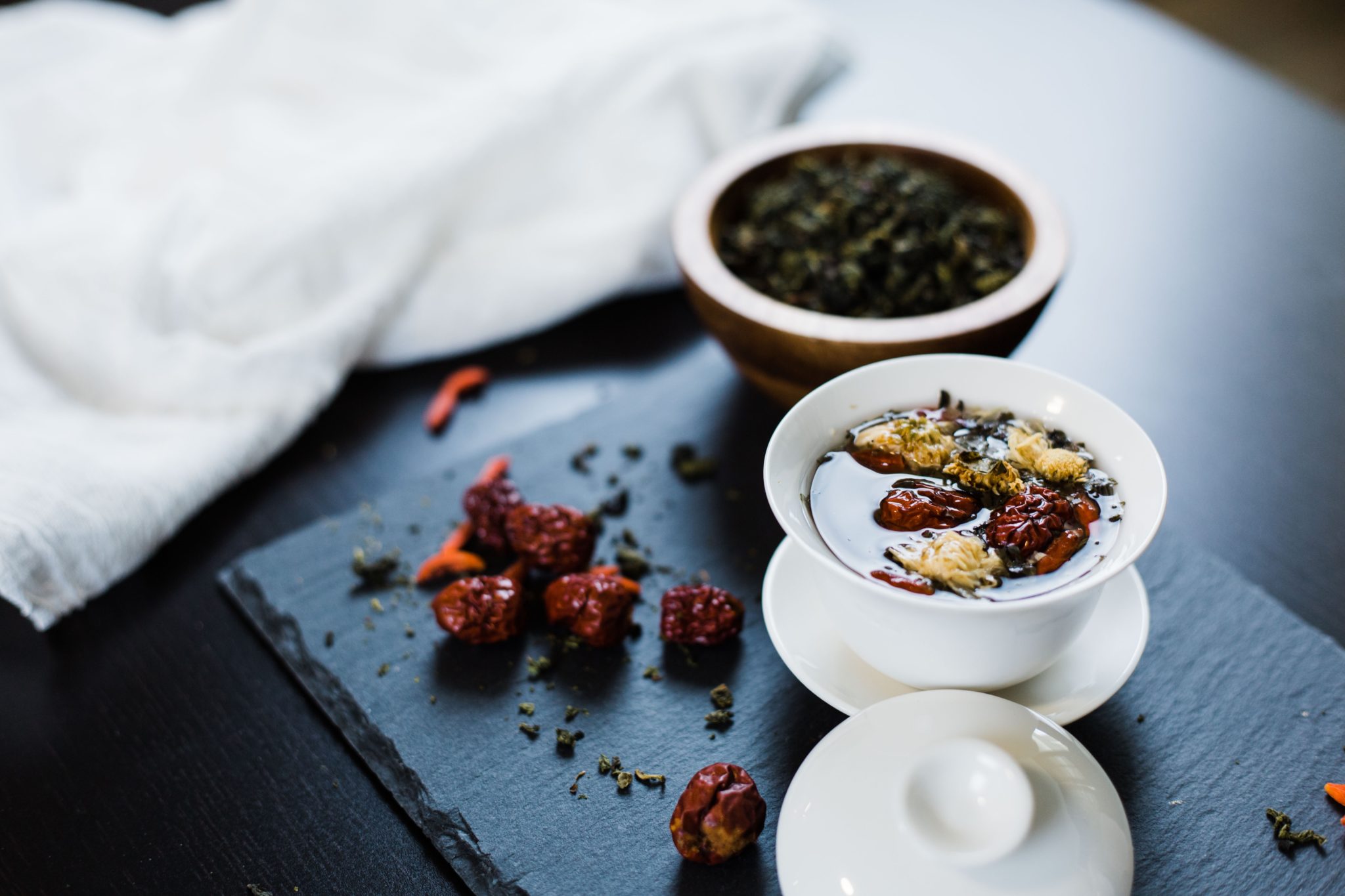 Mood-Boosting Vape Blend
1 tsp dried Rosemary
2 tsp dried lemon balm
1 tsp dried lemongrass
A sprinkle of dried rose
1 tsp Ringo's Gift
Specialized optional item: 1 tsp powder kanna*
Grind, load, vape. Feel your mood improve and then feel inspired to go have fun.
***Kanna is an herb that is related to the same family as cannabis but without the psychoactive effects. It is known to be uplifting and gives off charismatic vibes.
Sleepytime Essential Oils
6 drops Lavender
4 drops basil
3 drops peppermint
2 drops mugwort
5mg of cannaoil (Afghan Kush)
Add to a diffuser, add to your tea or slather it all over your body for a relaxed night's sleep.