Best Vape Pens
2016 has seen some great new vape pens on the market but which vape pen is the best? To save you reading reviews, searching Google and comparing prices team LIWTS have put the hard work in for you and have chosen our 3 favourite Vape pens on the market right now.  We have looked at a number of factors including price, durability, vapor quality and have even found video reviews so all the information you need is right here. If you see a pen you like click the image and it will take you directly to the suppliers websites where you can purchase one for yourself.
1. V2 Pro Series 3 Vape Pen
The V2 Pro Series 3 pen is capable of vaporizing e-liquids, flower and wax. Designed specifically for e-liquid you could be forgiven for thinking that it won't perform well with flower and wax but you would be wrong, it performs equally well what ever your chosen vape material. The V2 vape pen comes in a lightweight design available in three colour options Black, Blue or Stainless Steel. It has a good build quality and for a vape pen with so many options the price won't be beaten. To change from e-liquids to flower is easy too, all you have to do is pull off the magnetic cartridge and simply attach the next one.
When buying the V2 Pro Series 3 it comes with a magnetic USB charging lead and a choice of EU or UK wall adapters. It also comes with a magnetic no leak E-Liquid cartridge that can be refilled up to 20 times.
How much does it cost? The V2 Pro Series 3 comes in at £59.99 ($73). If you want to vaporize dry herbs you will also need to purchase the Loose Leaf Cartridge which costs another £15.99 ($20). There are other attachments that can be purchased too, such as the V2 Pro Series 3 Wax cartridge costing £19.99 ($25) and a cleaning kit costing £15.99 ($20) so you can keep your Vape Pen in perfect condition.
V2 Pro Series 3 Vape Pen Review Video
Spec
Chamber Size – 0.1g of dry herb
Battery – 650 mAh giving 12 x 2 minute sessions with dry herb
Battery Charge Time – 1.5-2 hours
Time To Reach Optimum Temperature – 15-30 seconds
Size – 14.3cm x 1.5cm
Weight – 50g
Conduction heated
| Pros | Cons |
| --- | --- |
| Adaptable for use with waxes. e-liquids and dry herb | Costs extra for wax and dry herb attachments |
| Highly portable due to size and weight | Doesn't have a thick vapor cloud when used with dry herb |
| Looks like a nicotine vaporizer so can be used in public | Doesn't suit a heavy cannabis vape session due to limited size dry herb compartment |
| Good for beginners | |
2. Atmos Kiln Vape Pen Kit
The Atmos Kiln is available in two colours, black and white and is a pretty unique vape pen as it uses a ceramic disc to heat quickly and evenly. It has best results when used with waxes and concentrates due to the high heating temperatures but is equally capable when using small amounts of dry herb.  The Atmos Kiln vape pen has great air flow, after a few seconds pulling on the device it will give big hits of vapor. The best thing about this vape pen has to be the vapor taste. It's super clean and smooth and definitely for the terpene connoisseur.
The kit includes an Atmos Kiln ceramic heating attachment, a 950mAh Lithium-ion battery with patented spring loaded connector, micro-USB charger, a packing tool and User Manual.
To buy the Atmos Kiln Vaporizer Kit it will cost you $69.95 or alternatively you can purchase the Atmos Kiln and attach your own mod/ battery for $39.95.
Atmos Kiln Vaporizer Vape Pen Review Video
Spec
Chamber Size – Fits a pea sized amount
Battery – 950 mAh as part of the kiln kit
Battery Charge Time – 2 hours
Time To Reach Optimum Temperature – 3-4 seconds
Size – 11.3cm x 1.8cm (with battery from kiln kit)
Conduction heated
| Pros | Cons |
| --- | --- |
| Comes with a 5 year warranty | Herb chamber is a little small |
| Excellent airflow |  Difficult to clean |
|  Good vapor quality |  Concentrates leave the chamber messy due to high temps |
|  Ceramic housing stays cool when in use |  Only one temperature settiing |
|  Easy to load | |
3. G Pen Snoop Dogg Herbal Vape Pen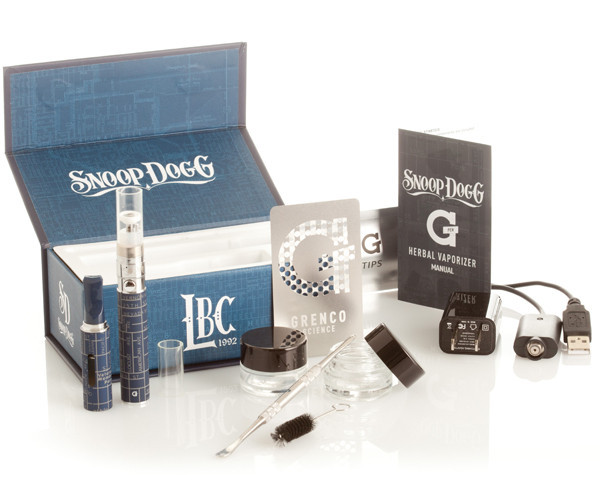 Click the image to buy a Snoop Dogg G Pen vape kit
The Snoop Dogg G Pen Vaporizer is a new take on the standard G Pen with Snoops own special styling of a Long Beach roadmap covering the vaporizer. It is a dry herb only vaporizer that is easy to use and easy to pack.
When purchased the Snoop Dogg G Pen comes with 1 x Snoop Dogg Battery, 1 x Herbal Tank, 1 x USB Charger, 1 x Wall Adapter, 3 x Cleaning Tips, 1 x Cleaning Brush, 2 x Glass Sleeves and 1 x User Manual.
To buy the Snoop G Pen Vaporizer it will cost you $74.95 or if you want to save $5 you can buy the standard G Pen which costs $69.95. 
Snoop Dogg Shows How To Use The G Pen Vaporizer
Spec
Dry Herb Chamber Size – 0.5g
Battery – 900 mAh
Battery Charge Time – 2-3 hours
Time To Reach Optimum Temperature – 1 minute
Size – 14.6cm x 1.3cm
Weight – 120g
Conduction heated
| Pros | Cons |
| --- | --- |
| Good starter vape pen | Can combust your herb |
| Easy to use |  Requires a replacement tank every two months |
| Well made durable pen |  Offer the same pen without the styling for $5 less |
|  Easy to use | |

Click the image to buy a Snoop Dogg G Pen vape kit
More Vapes On LIWTS
If a vape pen isn't for you we have also looked at other vapes.
Guide to the best desktop vapes
Guide to the bets wax and concentrate vapes
Guide to the best CBD Vapes
Guide to the best portable vapes
Please note that LIWTS do receive a small commission from the links on this page if you purchase a vaporizer. This commission comes directly from the supplier and does not effect the price you pay. In fact because you have purchased through LIWTS you will occasionally pay a lower price than otherwise.