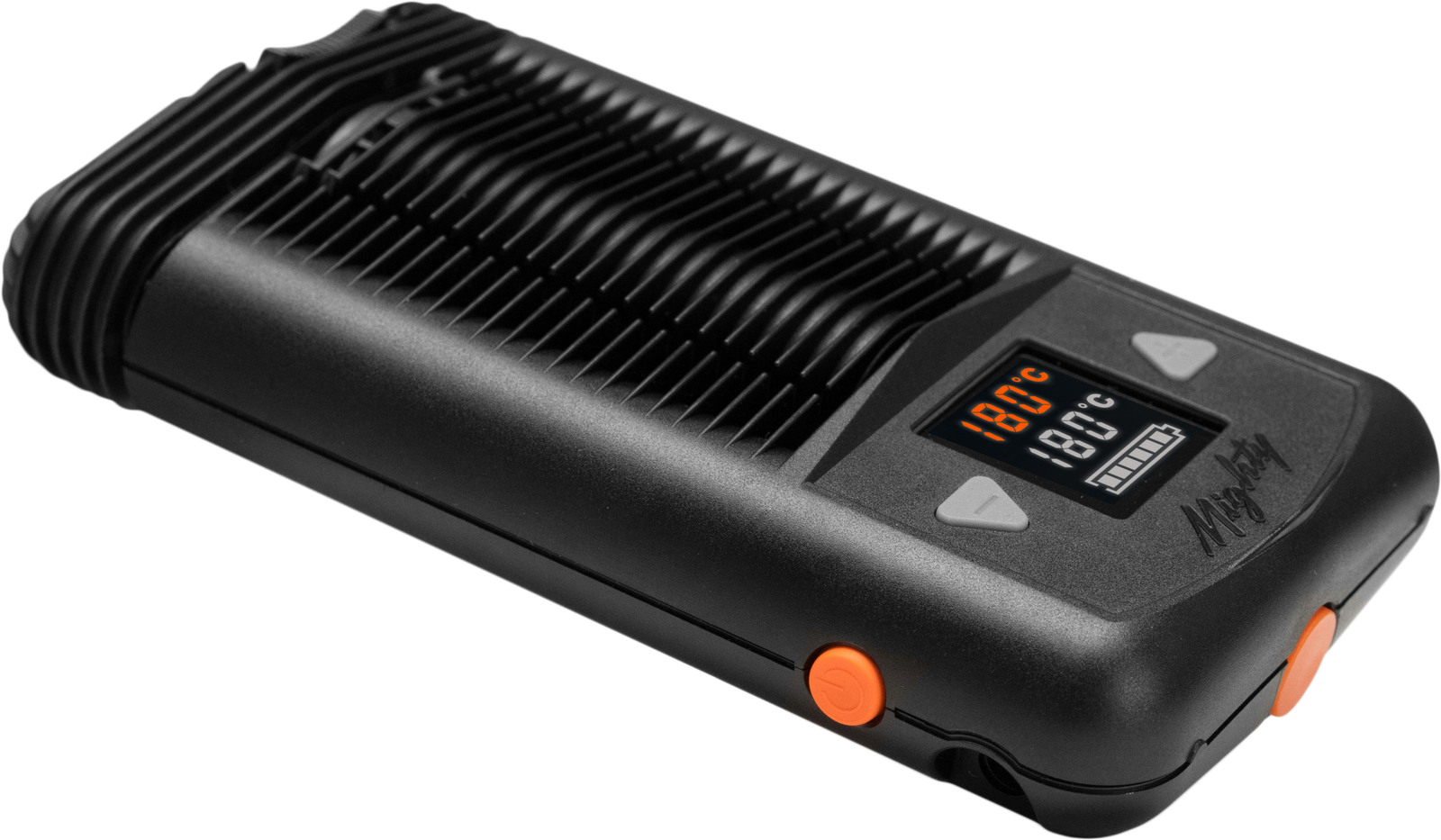 Try out The Mighty by Storz & Bickel just once and I promise you'll be hooked. All other portable dry herb vaporizers, even that one you really like, will suddenly seem redundant. You'll wonder why all vapes don't have an airflow, flavour profile and ability to produce clouds of such magnificence that has been achieved in this incredible device. The Mighty vaporizer certainly didn't disappoint in any function. Often when told "x is the best thing ever" I am left with a general feeling of "meh, suppose it was alright". The Mighty was undersold to me, it's so much better than I expected and I really enjoyed my time reviewing this awesome portable vape.
What's in The Box and First Impressions of The Mighty Vaporizer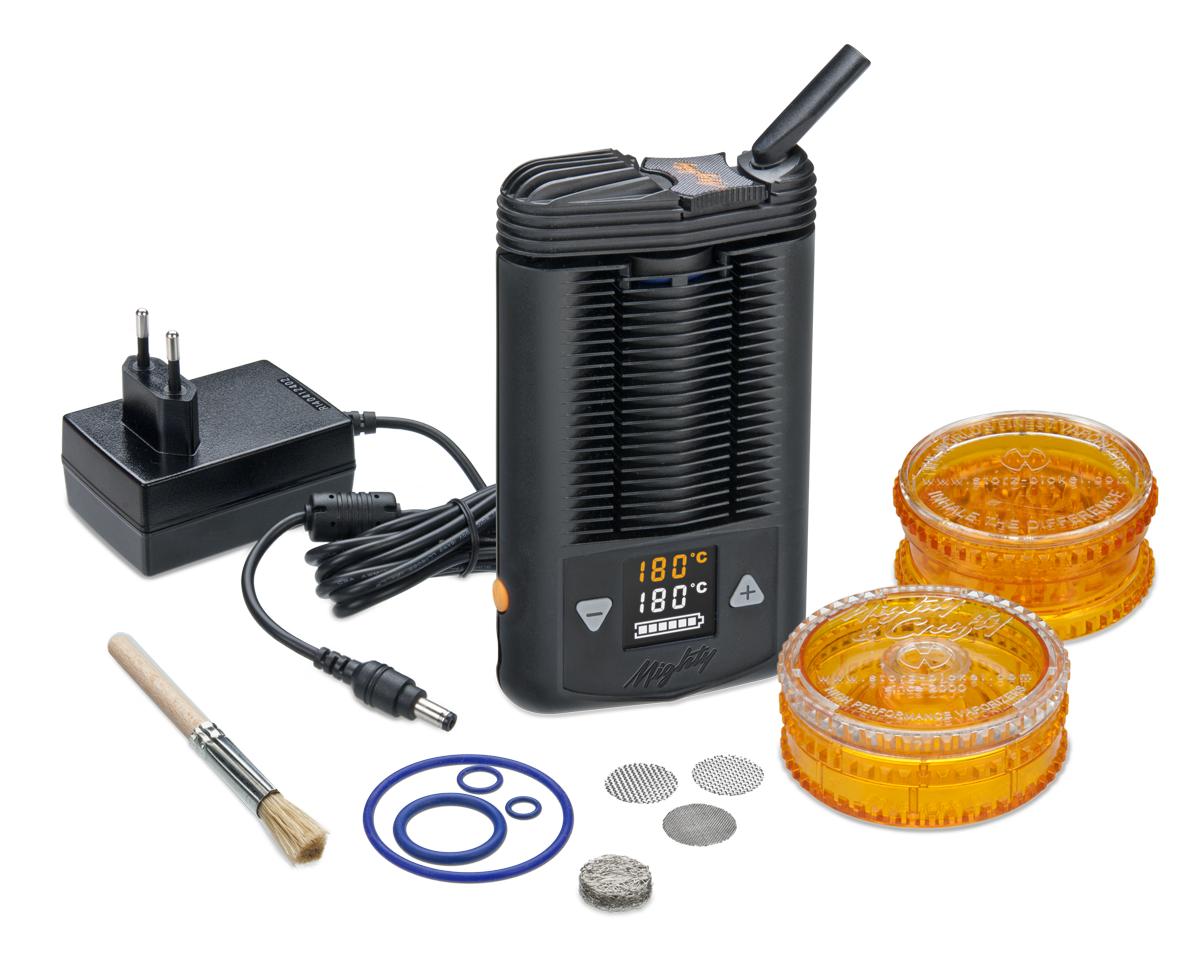 The box contains everything you need you need to get started. When you purchase The Mighty, it includes the device, a grinder, a filling aid (this is very useful), a cleaning brush, a dosing capsule and some spare bands and filters. Once the device arrived I was suitably excited and my first response upon looking through was a surprise at the overall size. It's a bit bigger than a handful and after being used to a Grasshopper or PAX 3 it felt like a giant. It's certainly not the prettiest device either and if you want to vape on the go in a stealthy manner this won't really work as everyone will notice you are holding it.
The dosing capsules and the filling aid are both useful and show how well thought out the usability of this dry herb vape is. I will be purchasing more dosing capsules, as you can load a few up, throw them in your pocket and then just swap the capsules as you go about your day. It also means the chamber doesn't get so clogged from usage and is a little easier to clean. The filling aid reduces mess and wastage too. I often end up using whatever is laying around to funnel my herbs into my vapes. That's not necessary here, the filling aid twists and locks into the Mighty and then you just empty your grinder into the aid and push your herb into the chamber.
Score 7 out of 10
The Mighty Battery and Charging Time
Unlike many vapes you can charge and use The Mighty at the same time. If you are a heavy user this may come in handy as generally I found the battery completely draining after between 5-7 sessions, pretty good but not amazing either. Doing both at once does mean a little extra heat on the device which I'm sure won't do the battery life any good in the long term. To fully charge the device will take around 2 hours which is decent for a battery with this level of power.
Score 9 out of 10.
Packing and Using The Mighty
As already mentioned, The Mighty comes with a filling aid and you can also purchase additional filling capsules to make this process a little easier and cleaner. The device holds around 0.2g of dry herb and works well whether you pack it firmly or leave a little space so the herb loosely fills the chamber. If you want to go with less still then use the wire concentrates pad and this will fill the chamber out a little more. With the herb packed a little firmer this improves the vapor production and gives bigger tastier clouds. Turning the device on and changing the temperature is easy. You could pass it to anyone and they would soon see that there is a big orange button on the side to turn it on and plus and minus buttons for the digital temperature control.
What really makes this device stand out is it's complete lack of draw resistance and the exceptional flavour. Every other portable vaporizer I've used to date has some level of resistance, this was almost non existent and it was as easy to hit as any well rolled joint. If you are looking to convert to vaporizing after smoking this device will give you the best chance of succeeding. As the Mighty uses convection heating you can also draw a little harder than usual enabling you to take much bigger hits than most vapes. These hits aren't only large but super tasty too, with minimal tainting from the plastic as the vapor passes through the device.
Score 9 out of 10
The Mighty Temperature Control
The Mighty Vaporizer has an outstanding temperature range that no other portable I'm aware of can match. Unusually for a portable vape you can change the temperature 1° at a time and also start with really low temperatures too. The range is from 40°C-210°C (102°F-410°F) which allows you to choose your ideal settings or go on a flight of fancy and try out different temperatures and find what works for you.
Score 10 out of 10
The Mighty Vaporizer Build Quality
The first time I picked it up I was concerned that it felt a little flimsy as it's all plastic. However, after a few sessions I started to realise that it was a much sturdier device. Now I wouldn't go dropping it on purpose to test it out as that may do some serious damage, but it is durable enough to sustain the odd accident. The way the components fit together is where you see how well engineered this device is. To get into the oven you just twist the top. Then to take the cooling unit apart all of the pieces click into place and can be stripped to individual components with little effort. This helps when cleaning the device as without this excellent engineering it would be incredibly difficult.
The one are that let's this down is that it won't stand up on it's own! You can pull the cleaning tool out of the bottom and use this to stand it up which is indeed a nice little feature but it doesn't feel quite stable enough for my tastes.
Score 9 out of 10
Maintenance and Cleaning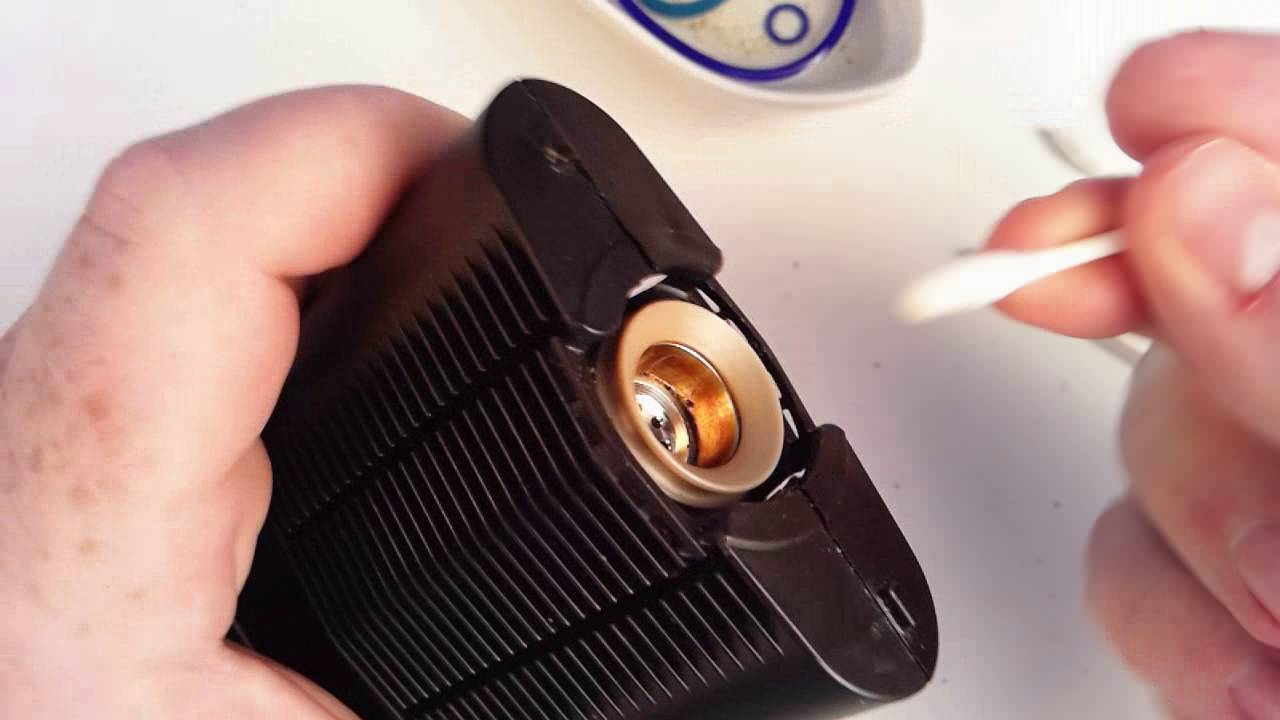 As already mentioned it is reasonably easy to take the cooling unit apart. This is where your device will build up the most residue when being used, however it does take a little effort and time to clean the device properly which is essential if you want to keep the vapor tasting clean and prolong the usefulness of The Mighty. You will need to do this every 2-3 weeks depending on how often you vape and will need to put aside a good 30 minutes to do it properly. I highly recommend watching a Youtube video to do this. The first time I cleaned the device it took me much longer as I was trying to figure the best ways to remove parts. The second time I watched a video and this made it so much easier. I used this one by 420 Vapezone.
Score 8 out of 10
Value for Money
This isn't a device for someone without a little spare cash. In fact it is the most expensive portable vaporizer (apart from the Firelfly 2) on the market, coming in at £240 plus in the UK and $350 plus in the US. However the functional quality of the device, the ten year warranty and the ease of use mean if you have the spare cash this is the must have portable vaporizer.
Score 9 out of 10 
Conclusion
As someone who was a smoker of buds for many years this is the closest feeling I get to the big hit I used to get when smoking a joint. If I would have purchased this device first then I would have probably never tried any others as I would of had no need to. It produces good quality vapor with just a little tainting from the plastic pathway, but compares well with other similar devices. Cleaning is a pain but is certainly worth the effort and whilst The Mighty isn't much of a looker the functionality means that this doesn't matter.
Pros and Cons of The Mighty
Pros
Good quality vapor production
Well designed and sturdy structure
Easy to use and operate
Wide temperature range
Cons
Not the best looking vaporizer
Difficult to clean
Premium pricing
Overall Scores
First Impressions – 7 out of 10
Battery and Charging – 9 out of 10
Packing and Using – 9 out of 10
Temperature Control – 10 out of 10
Build Quality – 9 out of 10
Maintenance and Cleaning – 8 out of 10
Value for Money – 9 out of 10
Overall Score – 8.7 out of 10
Have you tried The Mighty Vaporizer? Give us your Mighty Vaporizer review below.