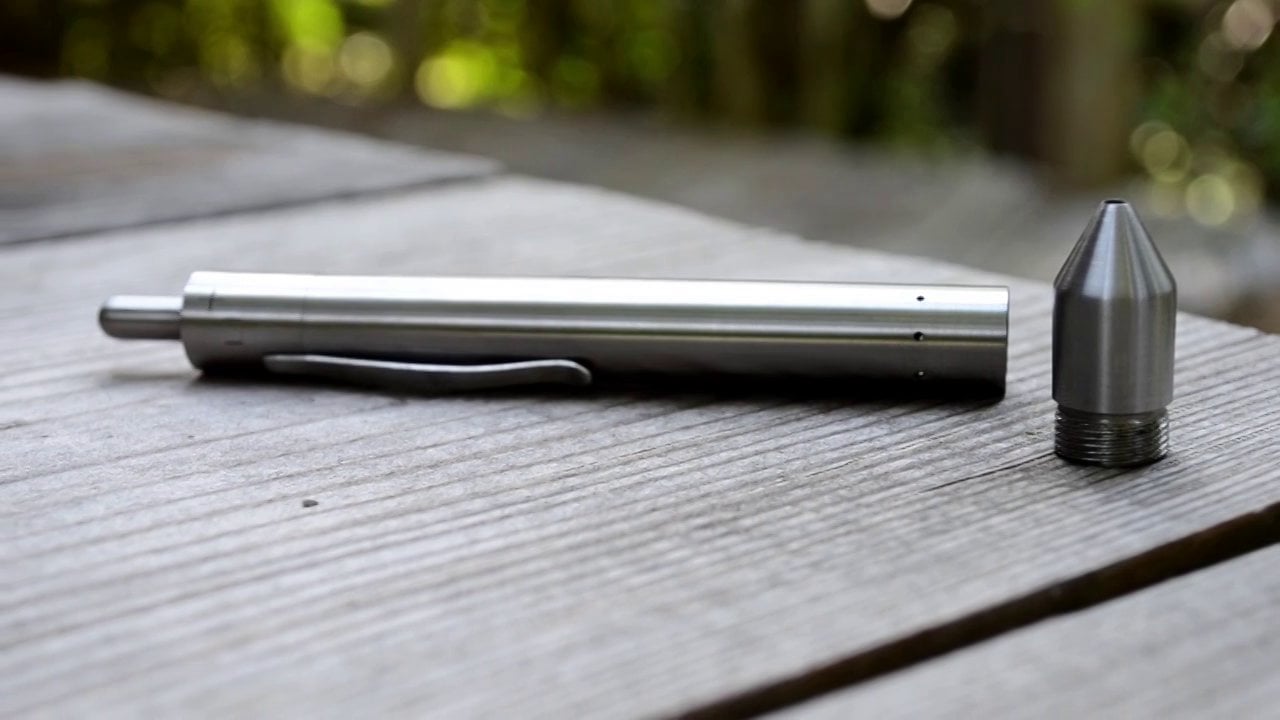 The Grasshopper vape pen is the market leader when it comes to super stealth portable vaporizers. This pen is disguised to look like a, well, pen… So you can carry this around in your top pocket without anyone ever knowing that you have your herb so close by. Unless of course they ask to borrow your pen, or your herb is of the particularly dank variety! The Grasshopper by Hopper Labs comes in variety of options. You can buy it as a straight up stainless steel version or if you want a little less weight and have a little more money to spend there is also the option to buy it in Titanium. Alternatively they sell a heat treated Titanium Grasshopper which comes in a multitude of different colours. I like the classic Stainless Steel myself so went for that one.
What's in The Box and First Impressions of the Grasshopper Vape Pen
Everything you need to get started is included in the box. Fortunately this isn't much. The Grashopper vape comes with two batteries, a magnetic charger, the vape itself and a silicone mouthpiece. There is of course an instructional manual, this is nice and brief but worth a read first as the Grasshopper Vape has a number if features that take some getting used to. It has an auto shut off function that kicks in after around 15 seconds (or 8 seconds if you do not draw) and the temperature isn't easy to gauge as there are no numbers to indicate your selection on the device.
The pen is a little thicker than you may expect for something that is designed for stealth but is only a little larger than the average fountain pen. I was impressed with the quality of the design, everything is made to measure and fits together perfectly. There are no gaps where the pieces screw together, which in some cheaper vape pens can be an issue.
8 out of 10
Battery and Charging Time
The Grasshopper vape battery is different to most vaporizers. Unusually it is a battery that can be removed and swapped. This is great because it overcomes one of the few negatives which is how long the battery lasts. I find that 2 or 3 sessions is enough to completely drain the battery. As it can be removed, I always keep the spare charged and swap it over. A great feature of this vaporizer is the ability to use it whilst it is charging, as the magnetic charger slips over the end of the pen.
Personally I don't like using the standard charger as I can only charge one battery at a time. So I use an adjustable charger intended for AA batteries which charges both at once and in about 40 minutes.
9 out of 10
Packing and How to Use the Grasshopper Vape
The chamber is a little on the small side and is pretty fiddly to pack and empty. It works equally well with a loose pack and a firm pack which is a benefit of convection heating and something usually reserved for desktop vaporizers. To fill my Grasshopper takes a little time and I have taken to grinding my bud, putting it onto paper and then using the pen to scoop it up. This is very wasteful, I always end up losing kief and dry herb but I suppose I should have expected this when buying a vape pen. As the barrel is quite narrow it is also a pain to empty, I hoped I would just be able to tap it out but instead I had to find an implement I can use to scrape it. If you have any difficulty with dexterity then this isn't the vape for you.
To use the Grasshopper it is a one click action to turn it on. This action is a little stiff but easy enough. The Grasshopper heats in a few seconds and the lights change from red to blue. Even after the light turns blue I give it another few seconds to hit optimum vaping temperature and then it is ready. Due to it being a convection vape pen you need to draw air through to vaporize your choice of herb. As a result if you draw harder, you will inhale more vapor, vapor that tastes delicious even if a little warm. The positioning of the chamber where you draw from ensures that using the silicone nib is a must if you do not want to burn your lips. Without the nib, which looks dreadful by the way, it is too hot to take the big long draws you want.
7 out of 10
Grasshopper Temperature Control

There is a range of 130°C-210°C (266°F-410°F) but there is no way to have accurate control over this. To adjust the temperature you twist the head of the pen and there are four lines that indicate the level. Within each line is a change of 20°C (68°f) so, you can change the temperature but not as accurately as some may want. I do like how low you can go on the temperature settings as I enjoy the different herb flavours but want more accuracy so I can optimise my sessions. This is function that is key if wanting to vaporize for medical reasons but for recreational use isn't so much of an issue. As you go up through the temperatures the loss of flavour is less pronounced than other devices I have used.
6 out of 10
Build Quality
The pen itself seems very well made and comes with a life time warranty. I am yet to experience any breakdowns and have used it everyday for the last two months, but a quick glance at any thread online about the product does show that many people have had to send their pen back for repairs and sometimes more than once. Also after some use the threads used to screw the parts together require heavy duty cleaning as the constant opening and closing to refill and empty the device leaves them filling with matter. This increases the difficulty to open and close the device so regular cleaning is a must.
7 out of 10
Maintenance and Cleaning
Once emptied cleaning the inside of the device is pretty easy. All it takes is some cotton buds and some Isopropyl Alcohol. In a few minutes you can clean out the chamber of any resin build up. The more difficult part is cleaning the threads on the screws, as already mentioned herb matter can build up on the threads. I use a blunt knife or my finger nails to clean this out every so often otherwise the device doesn't connect up perfectly leaving gaps for the vapor to escape. Over time the airflow can be reduced quite dramatically if not cleaned regularly. To get around this the only real way to clean it is to drop the mouthpiece in alcohol every couple of weeks to clear out any resinous build up as there is no other way to get to it if not.
8 out of 10
Value for Money
A standard stainless steel Grasshopper Vape pen will set you back $200, if you want to purchase it in Titanium then it will cost another $50. To go for the heat treated Titanium version it is a staggering $350! I have no idea why you would pay so much more for aesthetic reasons as at that cost you could purchase any of the very best portable vaporizers on the market which perform to a slightly higher standard too. At $200 I am still not sure it is worth that kind of outlay due to the limitations on temperature control which have been sacrificed for the stealthy nature of the pen. However, I am not disappointed with the device, I just have high expectations.
6 out of 10
Conclusion
There is no doubt that the Grasshopper Vape produces clean good tasting vapor but it does have some limitations. I wouldn't recommend it for medical use as you may want more accurate temperature control or for anyone who has issues with manual dexterity due to the slightly fiddly nature of packing and emptying. If you are looking for a vape to add to a collection and want one that looks stealthy and tastes great then this is an excellent device. If you like to hit a vaporizer through a bubbler buy a Grasshopper, it's 14mm (14.5mm with the silicon mouthpiece) size fits lots of commercially available glassware. It also takes the already excellent flavour to a new level that very few vaporizers can compete with.
Pros and Cons
| Pros | Cons |
| --- | --- |
| Convection heated for great flavour across different temperatures | Lack of accurate temperature control |
| Discreet and portable for stealth use | Fiddly to pack, empty and clean |
| Low temperature settings for terpene sessions | Not suitable if you have manual dexterity problems |
| Can charge and vape at the same time | Lips get hot when drawing on the device |
Scores
First Impressions 8/10
Battery and Charging Time 9/10
Packing and Using 7/10
Build Quality 6/10
Temperature Control 7/10
Maintenance and Cleaning 8/10
Value for Money 6 / 10
Total 7.2 out of 10