What Is A Dry Herb Vaporizer?
A dry herb vaporizer is a device used to turn cannabis flower, concentrates and oils into a vapor. These device are used people who consume medical marijuana and recreational cannabis. They are usually battery operated but some desk top versions are mains powered.
They work by using a heating element and a compartment or tank that stores your chosen vape material. The heating element will warm the tank to optimum temperature so that the essential oils in the cannabis (THC, CBD and Terpenes) turn into a vapor and can be inhaled. There are two types of heating elements Conduction and Convection, which both work in differing ways.
Why Use A Vaporizer?
Find The Best Concentrate, Wax, Oil and Dry Herb Vaporizer
Many have chosen the Vaporizer as their preferred method to ingest cannabis because of the extra chemicals that can be inhaled when using traditional methods such as smoking a blunt. When you use a a Vaporizer the aim is to just heat the oils that contain the parts we are looking to ingest, THC and CBD. When combustion enters the equation as it does when you smoke a blunt or fire one up in a bowl this releases extra chemicals that we then take into the lungs. Whether with tobacco or just using weed, combustion is a process to avoid, as the medicinal benefits you are hoping to gain from using cannabis can then be negated somewhat by the additional unwanted long term health problems.
The other side of the coin is taste. When using a vape you get all of the wonderful flavour from the Terpenes that the plant produces. There are five common Terpenes and these are what cause the distinct flavours of lemon, candy, pine, pepper and tropical fruit. These Terpenes are formed in the same gland that produces the Cannabinoids such as THC and CBD. These Terpenes like THC and CBD are oil based so when using a Vaporizer you isolate these elements so you not only get the cleanest dose when vaping but the tastiest too.
As an added bonus when you have finished vaping your weed you are also left with lots of left over buds. These buds can then be used for cooking or making your own cannabutter.
Choosing The Right Type Of Vaporizer 
When purchasing a vaporizer to ingest cannabis the first place to start is the three types of vape. These are Vape Pens, Portable Vapes and Desktop Vapes. The one you choose will depend on your needs, your budget and your preferred method of ingestion.
Vape Pens- These look like the e-cigarettes that we see everywhere now. They look basic and consist of an atomizer, a mouthpiece and battery. Vape Pens are used mainly for dry herb/flower but now the we are seeing several of these on the market such as the MediPen which use e-liquids or can be used for concentrates such as wax and shatter. These will need charging, usually using a USB or sometimes a separate battery charger.
Portable Vapes- Very similar to but a little larger than Vape Pens these are the favoured devices for medicinal users and those who just use dry herb/flower. These have an advantage over the pens as they will have a longer battery life and larger chambers for your weed of choice. Most importantly though these will have a little extra power, so less time to wait to heat and also better performance than the pens on the market.
Desktop Vapes- These are generally for home use only (hence the name) as they are much larger than the Vape Pens and Portable Vapes. Why so large you ask? Well they have much more power than the other models. If what you require is a vape that heats quickly, can be controlled to work at different and highly accurate temperatures and provide the best vape quality then a desktop is the way to go.
Conduction Vs Convection Vaping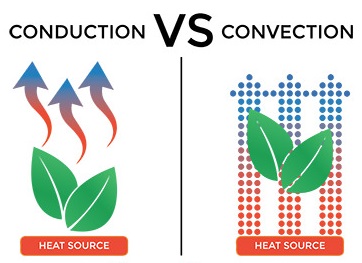 Conduction– The transfer of thermal energy- Is used in cheaper vapes as it is less complicated and can warm up quickly. This method will involve a heat source that is in direct contact with the herb. The downside of this is that there is a higher risk of combustion and unless your weed is in contact with the heating element so you may have to shake and poke the weed between hits to get all of the CBD and THC.
Convection- The transfer of thermal energy through a liquid or gas- This is more expensive but gives more even heating of your herb ensuring you get every bit of goodness from your bud. Temperature control is more accurate too giving a lower risk of combustion. Of course there is a downside to this type of heating in that it can be a little slower to warm up than the conduction method but its worth the wait. For the best dry herb vaporizer you really want convection heating.
Buying The Right Vaporizer
Now you know about vaporizers the next step is to decide which is the best one for you. To help you make the right decision the team here at LIWTS has got together and put down our three favourite vaporizers in each category.
Top 3 Desktop Vaporizers
Link – Best Desktop Dry Herb Vaporizer Guide
Top 3 Vaporizers under $100
| Rank | Product | Cost | Buy Now |
| --- | --- | --- | --- |
| 1 | Coming Soon | Coming Soon | Coming Soon |
| 2 | Coming Soon | Coming Soon | Coming Soon |
| 3 | Coming Soon | Coming Soon | Coming Soonc |
Link – Best Vaporizers Under $100