PAX 3 Dry Herb & Concentrate Vaporizer
After months of admiring from afar I finally got my hands on the PAX 3 and got to put it through its paces myself to find out why this is possibly the most hyped and highly rated vaporizer available. If you are reading this there is a good chance you have already heard all about the PAX 3, you may have tried it, or its predecessor, the PAX 2, which was widely regarded as one of the best portable vapes on the market already.
For those who don't know about PAX Labs, I presume you are new to vaporizers! PAX Labs are in their tenth year and have racked up impressive sales of over 1 million devices from their home in California. They began with the aim of making smoking obsolete and have created products of intricate beauty with attention to detail that makes them an option you should consider alongside other vaporizer heavyweights such as Storz & Bickel and Da Vinci.
In my experience, the PAX 3 certainly lived up to the hype, it is a great product that works both for anyone new to vaping and for the more discerning pro who wants a higher level of control over their sessions.
What's in The Box and First Impressions of the PAX 3
After my PAX 3 arrived opening the box made me realise exactly why PAX have been referred to as the Apple of the Vaporizer market. The packaging is slick and immaculately put together, so much so it felt a travesty to open it and take everything out. There are tabs on the internal packaging so you can expend minimal effort when removing items, even the maintenance kit comes in its own box so the overall aesthetic of the packaging isn't diminished by a stray brush or pipe cleaner ruining what is a feast for the eyes.
I spent 20 minutes looking at all manner of lids and tools. It is clear, for the PAX 3, every eventuality has been considered. There is the standard lid, another for half packing and new to the PAX 3 is a lid for concentrates. There are spare oven covers, plenty of pipe cleaners and a PAX tool to aid in packing, cleaning and maintaining the device.
Score 10 out of 10
Battery and Charging Time
The battery took 2 hours to charge and takes a similar time when completely drained, which is pretty standard for a battery of this size (3500 mAh). What is impressive is just how long a full charge will last. I filled the PAX 3 repeatedly trying to see just how many times I could use it before the battery died. This took me a couple of days and I filled it with herb on eleven occasions before the battery ran down. On the next charge, I got 12 sessions before fully draining the battery, that's more than PAX Labs said I would get as they quote 8-10 on their spec. I will however note that I tended to use this on one of the lower settings as I'm all about the flavour rather than the big clouds so this may diminish if you use higher temps.
This was impressive and I must give the battery a score 10 out of 10.
Packing and Using the PAX 3
The device is very simple to use as you have one button to perform all your basic functions and with the 4 pre-set temperatures it is an excellent device for those new to vaping. One of the best upgrades on the PAX 3 is its heating time. In a mere 15 seconds, it is fully heated and ready to go. A massive improvement on the PAX 2 which took around 45 seconds.
Full Pack Lid
The device is easy to pack but to get the best from it you need to pack your herb in firmly, when loose it doesn't taste as good and the clouds are pretty much non-existent. To pack with the normal lid, I found I had to do so in two stages. First, fill the oven chamber, then use the PAX multi tool to pack it down about half way before filling it again and tamping it down and putting the lid on. Using this lid does have a minor drawback which is that the herb next to the lid doesn't get evenly heated so it does mean you will sometimes need to give a quick stir half way through your session. With the normal oven lid I found I could fit around 0.3-0.4g of dry herb material.
Half Pack Lid
I fell in love with the half pack lid on the PAX 3, now I don't feel the need to fill it every time to get the best from it and then have a second go later when the herb is already a little crispy. I just fill it to the top loosely and then the half pack lid pushes it down nice and firmly for me making sure I get the best vapor experience every time. When using the half lid, I can comfortably fit 0.1-0.2g of dry herb material before restricting the airflow. I also do not have to stir my herb when I use this lid as it gets heated a little more evenly than when using the normal lid.
Concentrates Lid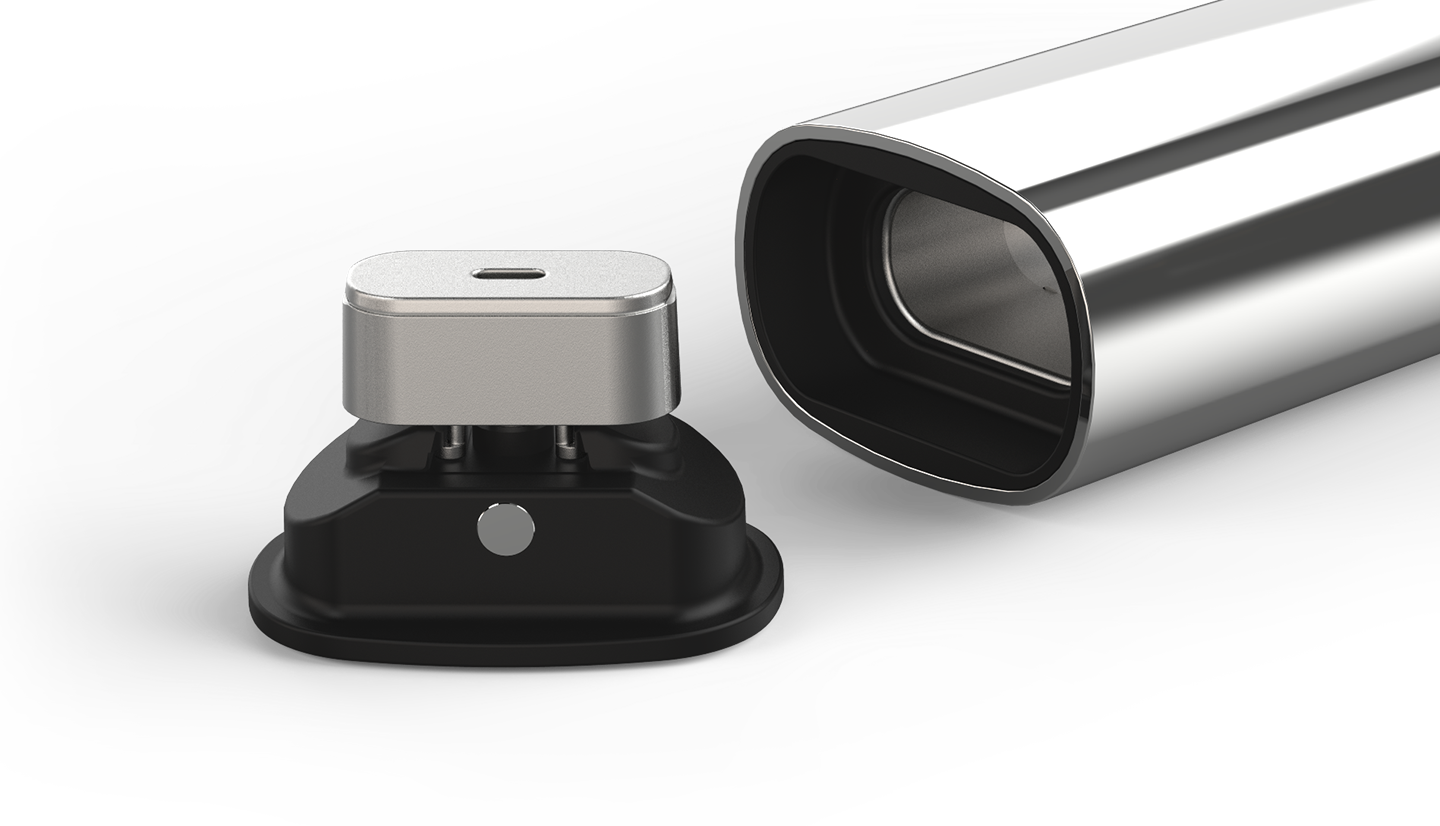 The concentrates lid is an interesting extra, enabling you too use both concentrates and dry herb in the same device. This sits a little out when in use but has good airflow, the taste is good and a small amount of concentrate goes a long way. I found it lasted longer than when I was using the device with dry herb. The only downside was the mess, after two sessions the lid was sticky and difficult to open, with that in mind you will need to purchase some alcohol and clean this after every use to stop it sticking.
Score 8 out of 10
PAX 3 Temperature Pre-sets
The device comes with 4 pre-set temperatures:
Fahrenheit: One Leaf: 360, Two Leaves: 380, Three Leaves: 400, Four Leaves: 420
Celcius: One Leaf: 182, Two Leaves: 193, Three Leaves: 205, Four Leaves: 215
As pre-sets, they work perfectly well and each level has its own advantages. The one leaf pre-set works very well for tasting Terpenes and is good for a steady longer session. At two leaves the clouds start to increase in size and you take in a little more THC and CBD. As you hit the upper temperatures the clouds are large but taste is drastically reduced. I also found that the device became a little too hot to hold on occasion. This also effected the heat around the mouthpiece and at time my lips felt too warm. If you are to use the higher temperatures regularly then I would only used the raised mouthpiece to reduce this and make the sessions more enjoyable.
Score 8 out of 10
PAX 3 App
Initially when I saw the PAX 3 had an app I thought it was superfluous and I still maintain that the games are. After some use with the various built in settings and the adjustable temperature controls I was won over. What really hooked me with the app was the ability to adjust the temperatures by small increments and the pre-set profiles where the temperature reduced when I put the device down.  This prevented the device heating up too much and getting too hot to touch and conserved the dry herb for longer more efficient sessions.
The app interface itself is very basic (I use Android), the screen lay out means that you cannot see the actual temperature counter as session symbols sit in the same place and obscure it.  There is however great potential with this app as the ability to adjust temperatures manually is very important to me as a user but it really needs some tweaking for me to use regularly.
Score 6 out of 10
PAX 3 Build quality

The unit is certainly solid and well put together. The lids all fit well and there is no rattling but I am not sure how long the concentrates lid will last. It feels a little flimsy and I can see it getting broken if it is not stored correctly. The big let-down for me is the glossy finish, I have the classic black model and within weeks it looks grubby and is covered in finger prints. As I like to have a vape with me when out and about I regularly throw it in my bag and haul it about when cycling and walking, this has seen one or two small scratches form on the case. If you want to keep it looking good I highly recommend looking at finding a case to transport it in and giving it a regular clean.
Score 9 out of 10
Maintenance and Cleaning
The device is simple enough to clean and PAX do include everything you will need to clean the device. I liked that the cleaning brush can be used to push out the oven screens, on some similar devices this has always been difficult and I have ended up searching the house for something I can use but no longer.
You will need to clean regularly to prevent the build-up of oils and to ensure the airflow remains good. I usually clean mine once a week thoroughly using wire cleaners and some warm water.
Score 9 out of 10
Value for Money
The PAX 3 is a high-end portable vape and you do pay high end prices as a result of this. Value for money for the user really depends on your needs and whether you will use all the extra tech that has been included. For me the price is fair £220 ($275US) as I make use of many of the features and love to have good tech.
Score 9 out of 10 
Conclusion
The PAX 3 has pretty much everything you want on a vaporizer, it can be used for both dry herb and concentrates effectively, the battery lasts for session after session and there are enough additional features to keep you discovering new ways to use the device for months after purchase. The small downsides are the finish and durability of the concentrates lid, I also think the app could do with some real development as it shows potential but feels unfinished. The PAX 3 will now be a part of my regular rotation, I like how discreet it is, it looks better than any other device on the market and I have a ten year warranty so am safe in the knowledge that even if it does go wrong I will be looked after.
Pros and Cons of the PAX 3
| Pros | Cons |
| --- | --- |
| 4 temperature pre-sets | The glossy finish is easily damaged |
| Discreet portable device that is good for those new to vaping and pros alike | Unit can get very hot when used for longer sessions |
| Can now be used for concentrates | Concentrates lid needs lots of cleaning and feels a little flimsy |
| Adjustable temperatures using the app | |
Overall Scores
First Impressions 10/10
Battery and Charging Time 10/10
Packing and Using 8/10
PAX 3 App 6/10
Build Quality 9/10
Maintenance and Cleaning 9/10
Value For Money 9/10
Overall Score 8.7 out of 10
What do you think of the PAX 3? Tell us in the comments below.