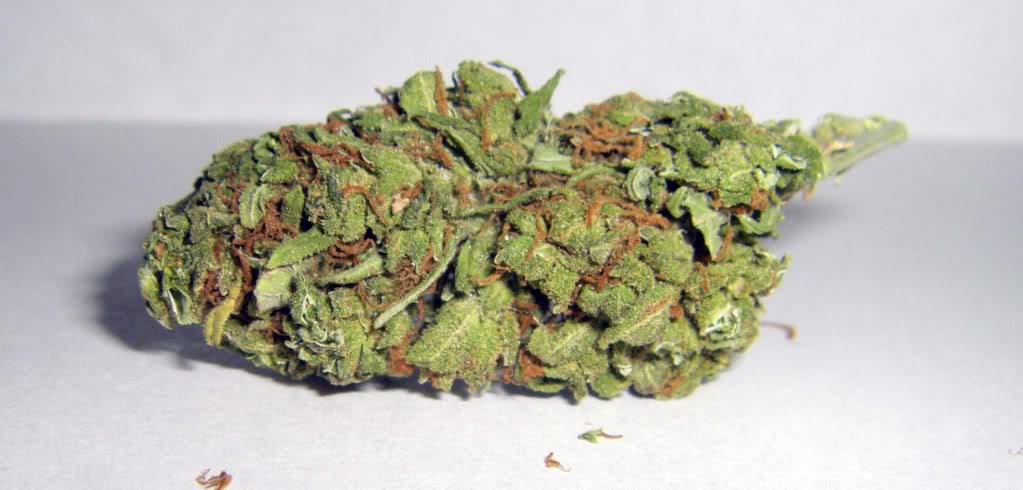 THC Bomb by Bomb Seeds, with a name like this, what else would you expect?  Unsurprisingly, it earned its name by packing a seriously head-spinning THC content when grown in ideal conditions. Equally unsurprisingly, it was cooked up for the first time in the Netherlands and has since become a firm favourite with growers and smokers all over the world. As it stands there is no known lineage, so no one apart from the breeders know what went into this creation.
THC Bomb Smoke Report
The aroma is predominantly one of heavy-hitting skunk, while the flavour brings together fresh fruits and deep earth. You'd be right to expect a powerful hit from THC Bomb and that's exactly what you get…instantly. However, the high is way more stimulating than you might expect and not nearly as paralysing. You'll experience a full-body sedating effect for sure, but not to such an extent you can't still enjoy music, movies, video games and so on. It's also a real hit when it comes to stress-busting and sleep-improving.
Medical Uses 
With high doses of THC this strain is particularly effective at delivering a heavy hitting Indica high making it suitable for pain relief, insomnia and PMS. This strain is also used by patients looking to increase their appetite and those dealing with mild anxiety. Be warned though, when used in high doses it will leave you couch locked, so I wouldn't recommend this if you have a busy day ahead.
Growing THC Bomb
Home growing is a highly rewarding endeavour with THC Bomb, both in terms of yields and how gorgeous the plants are. They don't tend to go beyond about 80cm in height, expanding outward to become pretty bush and slowly developing a pretty purple hue. Buds are dense, elongated and decorated with a lavish sprinkling of sparkling white crystals. As for the THC content, if you get it right throughout the growing and flowering stages you might just hit the fabled 25% mark. If purchasing seeds, this strain is available in regular, feminized and autoflowering so is suitable for all types of grow set up.
THC Bomb Grow & Yield
Not only does THC Bomb shine in terms of THC content, but it's also good for a massively generous yield. You'll have to put in the effort to get it right, but your reward could well be a mind-blowing 1kg per-plant yield. That's about 650g per square metre, which is astonishing considering the fact that THC Bomb is suitable for growing outdoors in most climates…the warmer, the better.
For newcomers in particular, there's no strain quite like THC Bomb to make you feel you've hit the jackpot with your very first attempt at growing. But then again, that's because you have!
Buy THC Bomb Seeds
Bomb Seeds have created regular, feminized and autoflowering seeds for this strain.
Buy Cannabis Seeds
Seedbank Name
Strain Sex
Shipping
Payment Methods
Discount Code
Visit Site

SeedSupreme

Reg, Fem, Auto

Worldwide

Card, Cash, Check, Bank Transfer, Bitcoin

N/A

Visit Site

MSNL

Reg, Fem

Worldwide

Card, Cash, Bank Transfer, Bitcoin

N/A

Visit Site

The Vault

Fem, Auto

Worldwide

Card, Cash, Check, Bank Transfer, Bitcoin

THEVAULT10 10% off first order

Visit Site
Strain Characteristics
| | | |
| --- | --- | --- |
| | Type: | Sativa and Indica hybrid |
| | Plant Height: | 65-90cm |
| | THC: | 20-25% |
| | Indoor/Outdoor: | Indoors and outdoors |
| | Yield: | 550-650g/m² |
| | Indoor Flowering: | 7-9 Weeks |
| | Harvest Outdoor: | Sept-Oct |
| | Stoned/High: | Strong, all round buzz |